Editor's note: Campbell Brown anchors CNN's "Campbell Brown: No Bias, No Bull" at 8 p.m. ET Mondays through Fridays. She delivered this commentary during the "Cutting through the Bull" segment of Friday night's broadcast.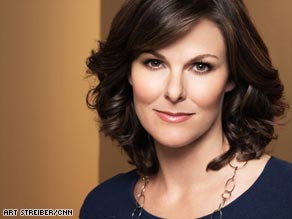 CNN's Campbell Brown says Bernie Madoff's ability to live in his luxury apartment is a disgrace.
(CNN) -- Why isn't Bernie Madoff in jail?
Tonight, the fund manager behind what he himself described as a $50 billion Ponzi scheme is still hanging out in his $7 million apartment, wearing an ankle bracelet.
Federal prosecutors this week went to court in the hopes of getting his bail revoked. That's because he sent members of his family about a million dollars in jewelry over the holidays, allegedly stashing the valuables that otherwise might have been confiscated.
A New York judge is now deciding whether because of that, he should now be locked up.

Watch Campbell Brown discuss the Madoff case »
'No Bias, No Bull'
Get the latest on the day's main events.
8 ET Monday through Friday

Every day, it seems, there has been a new story about Madoff victims, a new story about a charity or nonprofit wiped out because of the fraud he has confessed to.

Letting him serve his time at home for this long has been bad enough. To let him live in his luxury digs while he awaits trial would be a disgrace.
Here's hoping the courts get it right and put Madoff behind bars where he belongs.
E-mail to a friend

All About Bernard Madoff