By Jessica Ravitz
CNN





(CNN) -- Procrastination rarely looks this good.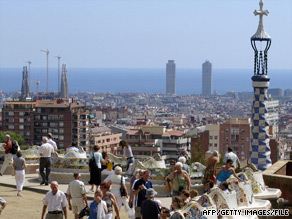 People gather in Barcelona, Spain's Park Guell, a garden with architectural designs by Antoni Gaudi.
With summer upon us, those who've put off making travel plans -- out of economic fear, guilt or otherwise -- may come out ahead as airlines, hotels and resorts continue to roll out screaming-good deals.
On Wednesday morning, for example, Delta wowed even the most savvy of shoppers, offering round-trip flights from the United States to Europe in the low $200s up to the $400 range, fares that were more than half off where they were just hours before.
"We haven't seen a sale like this in, oh ... well, ever, really," wrote George Hobica, creator of Airfarewatchdog.com, in a note he blasted off to media under the subject head "historic."
Granted, those jaw-dropping deals -- such as one from Los Angeles, California, to Barcelona, Spain, for $299 -- were snatched up pronto, but Hobica said others like them "could return at any moment" and suggested people sign up for e-mail and Twitter alerts from his site, Airfarewatchdog.com, and his competitor, Farecompare.com.
Travel industry insiders point out that now more than ever people are looking for travel packages that are surprise-free, the more all-inclusive the better. And given the state of the economy and industry, it's as if the vacation stars have aligned in the consumer's favor -- especially if the shopper is willing to be flexible on dates.
It's a "perfect storm" for those looking for rooms, said Jan Freitag, a vice president of Smith Travel Research, which monitors the hotel industry.
Because the industry had done well in recent years, he said "everyone and their brother" scrambled to get loans and open new hotels.
Just as demand has dropped, with people scaling back on travel expenditures, the availability of rooms has soared. So far this year, Freitag said, the average occupancy rate in U.S. hotels is less than 53 percent.
Don't Miss
As a result, he said the most recent crunched figures, which were from April, show that room rates across the United States fell from the previous April by 10 percent overall and by about 16 percent at luxury locations.
"It's definitely a buyer's market," Freitag said, and it is the right time to ask -- if these add-ons aren't already offered -- for free breakfasts, room upgrades and, for example, free access to a property's gym.
Resorts, too, should and are ponying up plenty of perks. Seek out those free spa treatments, meals and rounds of golf, suggested Rich Beattie, executive editor of TravelandLeisure.com.
One hot spot for deal seekers is Mexico, which is struggling to reclaim its place on the tourism map. In the aftermath of the H1N1 flu virus scare, vacation destinations there "were just brutalized," said Beattie.
As a result, resorts in places such as Cozumel and Cancun are slashing package prices by as much as 50 percent, CNN reported late last month.
Meantime, said Hobica of Airfarewatchdog.com, flights to Mexico and Caribbean destinations, which are generally more affordable this time of year anyway, are even more enticing because of even greater prices and because the airlines are waiving the need to buy tickets in advance in order to secure the best rates.
Navigating the deals and best steals can be overwhelming, which is why turning to a travel agent for help can make a difference. A travel agent, for example, can sift through all the options, often secure different packages and can help prospective travelers figure out what destination is best for them.
"If you go to a professional, they can tell you what the traditional prices are ... and give you some good old-fashioned advice," said Ruthanne Terrero, a vice president in charge of content at The Travel Group, which puts out publications and Web sites for travel professionals.
Money and savings aside, the importance of getting away from the daily grind, even for a couple days, doesn't fade away during tough economic times.
Beattie said he's seen a surge of interest in weekend escapes. Likewise, the road trip is getting good play.
Mark Sedenquist, the publisher and managing editor of RoadTrip America, a Web site for all things, well, road trip, said the road trip experienced "a renaissance in America after 9/11." And though interest took a dip later, if traffic on his site is any indication, he said a new resurgence is emerging this year. iReport: Share your road trip stories
One person who's gearing up for a long drive is Caroline Duguay, 23, of Montreal, Quebec, in Canada. She created a Facebook group page called "Road Trip," so enthusiasts can swap tips, offer and find rides and thereby help the environment.
"It's just an easy eco-friendly way of traveling," said Duguay, who plans on hitting for the first time the West coast of the United States, mostly California, where her boyfriend wants to surf.
Theoretically, if it weren't for having a job, she could load up the car tomorrow and leave -- a perfect option for those who haven't planned.
E-mail to a friend

All About Travel Destinations • Resorts and Spas • Travel and Tourism