By Steve Almasy
CNN





(CNN) -- Richard Deitsch struggled through several days of denial before facing the fact that he was thousands of miles from home and he had no idea where his passport was.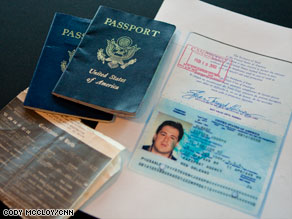 It's most important to make copies of your passport, say experts. Web sites offer easy-access digital storage.
The Sports Illustrated reporter was covering the 2008 Olympics in Beijing, China, where he should have been having the time of his life. But his emotions were all over the place -- and none of them were good. His passport, he assumed, had fallen out of his backpack.
"When I realized it was missing, I went through a number of stages -- panic, fear, anger, and finally, acceptance," he wrote while enjoying a recent vacation in Russia. "I looked for three days in every possible spot before I finally admitted to myself it was gone."
Deitsch's bureaucratic nightmare reached a low point when he found himself inside a police station telling his story to five police officials who spoke no English. "I was a wreck," he wrote later in a Sports Illustrated piece.
He had brought his own translator, an SI China reporter whom Deitsch credited with negotiating through the red tape and eventually saving his entire assignment.
Fortunately for Deitsch, he had prepared well for such an emergency.
The best thing Deitsch did, said travel experts, was to make several copies of his passport and work visa before departing for China. As a result, he had a replacement passport in his hands within a few days after he reported it missing.
Experts seem to come from two schools of thought on how to protect a passport. Some prefer to lock the document away once they arrive in a destination, while others say keeping the passport with you is the best way to safeguard it.
Before You Leave
Make two copies of your passport; leave one with a friend or relative in the United States. Bring the other with you. Keep it safe and separate from your passport.
Register with U.S. Embassy in countries you plan to visit. Write down and keep handy the embassies' contact information.
Buy passport travel holder that attaches to your waist or neck.
Check your passport expiration date. Some countries won't allow entry if expiration is within six months.
Bring contact information for a recommended U.S.-based attorney for legal matters such as a theft of your belongings.
Bring copies of passport photos with you and keep them safe.
Sources: Laura Kidder of Fodors.com, U.S. State Department, Robert Siciliano, IDTheftSecurity.com
Whatever option you choose, the bottom line is, if you lose your passport you must be able to prove your identity and citizenship to the U.S. government. The best way to do it is to have a copy of your passport handy.
Deitsch's experience has prompted him to become "hyper-vigilant" about his passport, he wrote. He usually chooses to lock the document in a safe during his travels, rarely carrying his passport on him.
"And when I do, I find myself grabbing the front of my pants-pocket every couple of minutes to make sure that it remains where it should," he wrote.
Once it's clear your passport is lost, bring your passport copy and any other traveling or ID-related paperwork to the nearest embassy or consulate during business hours.
Be prepared to spend at least four hours waiting in line, filling out forms and answering questions from officials.
If you didn't bring extra ID photos with you on your trip, have some taken before heading to the embassy or consulate. Make sure the photos are cropped to the correct size for your country's passport.
If you have no paperwork, take someone in your traveling party with you. They will have to vouch for you.
U.S. citizens who are traveling alone and have no other way to prove their identification will be allowed to call "family, friends or associates" in the United States to confirm their identity, according to the U.S. State Department Web site.
Laura Kidder, editorial director of Fodor's travel guides, suggested making color copies of the passport's data page and sticking them inside your luggage; you can scan them into a computer and e-mail them to yourself; or you can use an online document storage company.
"There's one [online company] that is particularly geared for passport and travel documents," Kidder said. She recommends the Australian Web site www.passportsupport.com, which costs about $15 Australian per year.
"This is the safest way to do it, which is more secure than you e-mailing it to yourself," said Kidder. Storing your passport data on a server offers higher security, she said, because the data is encrypted. In addition to passport documents, such services also will safely store data for tickets, drivers licenses, medical papers and lists of critical contacts.
Passportsupport.com users are asked to scan their documents in jpg files. Users can then upload these files to the passportsupport.com server with the Web site's interface.
Kidder said she keeps copies of her documents in her luggage when traveling, and her passport secure in the hotel -- either in a self-service safe in the hotel room or a safe operated by the front desk.
Rather than safes, Robert Siciliano, CEO of IDTheftSecurity.com, said he prefers to hold his passport himself.
If You Lose It
If your passport is missing or stolen, contact nearest U.S. Embassy or consulate immediately. Be sure it is really missing. Once you report it, the passport is invalid.
Travel to the embassy or consulate in person prepared to prove your identity.
If you cannot prove your identity, bring someone with you who can attest to your identity.
If possible, bring money for replacement passport.
Be prepared to travel to an immigration office in the host country to obtain an entry stamp.
Sources: Laura Kidder of Fodors.com, U.S. State Department, Robert Siciliano, IDTheftSecurity.com
Siciliano said he always carries his passport (and other valuables) on him, even when he heads down to a beach to relax with his laptop. He says if you plan to go in the water, know that someone is waiting to steal your stuff. Invest in portable alarms and don't lose sight of your possessions.
Siciliano said locking passports in a room safe leaves you open to the possibility of a forgotten combination.
In those cases, a hotel will send someone to the room who can unlock the safe.
Devices that unlock room safes can easily be bought online, Siciliano said.
It's a good example of how many people can access your room and safe if they want to go through your stuff.
"There are people out there that are focusing on you not paying attention, on you being trusting, you being naive," he says. "You're putting your faith and trust in someone who might have problems. People are flawed."
The best way to protect yourself is to buy a passport holder for $10-$20 and always keep it on you, Siciliano said. Wear it under a shirt and pull it out only if needed. Never put it in a backpack or a purse.
Experts said preparation is most important; you need to do your research and have multiple copies of everything.
"I always have backup for my backup," Siciliano said.
E-mail to a friend

All About Travel and Tourism • U.S. Department of State • Beijing