By Greg Melville





(Budget Travel) -- Our most protected lands -- and the dramatic drives that give access to them --are all too often conga lines of taillights and tourists. These four itineraries revive the majesty.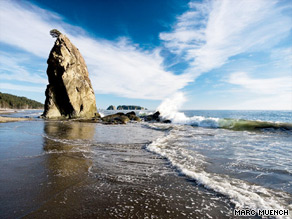 Olympic National Park includes ocean beaches and rain forest valleys and glacier-capped mountains.
Olympic and Mount Rainier
Bubbling hot springs, massive glaciers, and moody beaches you'll have all to yourself -- just a sampling of the natural wonders worth soaking up in two parks within a few hours of Seattle.
DAY 1 This drive actually begins on a boat: the 35-minute-long Bainbridge Island Ferry, which carries you from Seattle city center across Puget Sound. Connect with Route 101 and head west along Olympic National Park's northern edge. The park's gateway, in Port Angeles, Washington, feeds into Hurricane Ridge Road, ascending more than 5,200 feet through cedar, maple, and pine forests before dead-ending at the ridgeline.
It's an hour's drive back on 101 to Sol Duc Hot Springs Resort, where 32 TV-free cabins huddle around three spring-fed soaking pools that hold steady at 99, 101, and 104 degrees (rooms from $147).
DAY 2 Another name for Route 101 is the Pacific Coast Scenic Byway Loop; past Forks, it connects with Upper Hoh Road, an 18-mile stretch of road-trip heaven that traces the silvery Hoh River. The 17-mile-long Hoh River Trail gently traverses the flat valley before leading to Mount Olympus's Blue Glacier. Watch for elk and spotted owls hiding out amid 30-story-tall firs.
Just 90 minutes away, the Adirondack-style Lake Quinault Lodge, built in 1926, awaits (rooms from $130). Budget Travel: See the spectacular national parks
DAY 3 As Route 101 heads south, it hugs the Pacific shoreline; empty beaches peek through gaps in the coastal forest. The easiest to access is Kalaloch Beach, home to plump sunning sea lions and Kalaloch Lodge, with an ocean-view restaurant serving locally caught grilled king salmon (salmon $24).
About two hours to the southeast is the entrance to Mount Rainier National Park, where 147 miles of paved roads take in the park's almost 14,500-foot namesake peak. In July, Paradise meadow, the preferred launching pad for hikers, is blanketed in wildflowers. The 121-room Paradise Inn, which recently completed a $22.5 million renovation, has an expansive dining room with original decorative woodwork and some of the best vantage points (rooms from $104).
DAY 4 Route 410 cuts through Rainier's eastern border and climbs above the tree line at Chinook Pass -- open from May to November. Even then, many visitors don't know to go there, so the views of Rainier's reflection in Tipsoo Lake could be all yours.
Stick around
Only two hours north of Seattle lies yet another national park, the rugged North Cascades, where the 12 floating cabins at Ross Lake Resort are accessible only by foot or boat (rooms from $128).
Utah canyon country
From Las Vegas, it's a short drive to these four parks with strikingly diverse landscapes.
DAY 1 Interstate 15 quickly leaves Vegas shrinking in the rearview and drops you in Zion National Park three hours later. Tourists line up for bus rides on the six-mile Zion Canyon Scenic Drive (cars aren't allowed on the main road in summer), but independent-minded travelers head to little-known Kolob Terrace Road: The hourlong drive cuts across the park's center to Lava Point, which, at 7,600 feet in elevation, allows a soaring view of the canyons. Spend the evening on the private porch of a cabin at Zion Lodge (rooms from $159).
DAY 2 It's a quick drive north to Bryce Canyon, off U.S. 89. Take your time and do a two-hour horseback ride into the canyon (canyonrides.com, $50); then set aside the afternoon to drive to the outdoor-sports mecca of Moab, Utah, sandwiched between Arches and Canyonlands parks. The pueblo-style Gonzo Inn has bike storage, an espresso bar, and a hot tub (rooms from $159).
DAY 3 A day's time is enough to loop around all of the paved roads in Arches National Park and take in the most important sights, like Delicate Arch (the one on Utah license plates). But to find the park's true beauty, put boots to the ground and wander the narrow Technicolor maze of Fiery Furnace. There are no proper trails here, so hikers can only enter with a permit or on a ranger-led, three-hour walk (435/719-2299, walk $10).
DAY 4 Canyonlands may be the country's least drivable national park; much of it is inaccessible to cars. The broadest perspective by road lies at Island in the Sky mesa, 32 miles from Moab, which peers 1,000 feet down into the red canyons. Reach the plateau's edge via the mile-long Grand View Point Trail.
Stick around
The usual rafting trip on the Green and Colorado rivers from Moab to Lake Powell takes five days, but you can get the same thrills in just two days on a motorized-raft trip with Western River Expeditions (trips from $645).
Shenandoah and Great Smoky Mountains
Winding between these two parks in Virginia and Tennessee is the Blue Ridge Parkway, a bucolic 496-mile route with over 200 misty, megapixel-worthy overlooks -- forcing some difficult decisions.
DAY 1 A 90-minute drive from D.C. on Interstate 66 through Virginia horse country, the 105-mile-long Skyline Drive meanders along the spine of the Blue Ridge Mountains, with the broad Shenandoah Valley unfolding to the west. Paralleling the road for much of the way -- and crossing it many times -- is the Appalachian Trail; from the side of the road, utterly fearless Virginia white-tailed deer sniff at passing cars.
Near Waynesboro, Skyline Drive turns into the Blue Ridge Parkway, where it stretches for hours and passes overlooks with memorable names (Raven's Roost, Peaks of Otter), before reaching a turnoff for surprisingly cosmopolitan Roanoke. The recently renovated 1882 Hotel Roanoke has history behind it: The hotel's bar was once a World War II officers' club, and the ballroom hosted a cattle auction in the '60s. Today, in-room spa services are more typical (rooms from $119).
DAY 2 As you drive farther into the heart of Appalachia, the traffic thins and the valleys plunge deeper. The Blue Ridge Music Center, with its Saturday evening outdoor concerts and weekday-afternoon banjo-picking sessions, is a welcome sign of civilization near the North Carolina line. From here, a curving 100-mile drive leads to 87-acre Chetola Resort, North Carolina's only Orvis-endorsed fly-fishing lodge. Yoga, horseshoes, and canoes await those with little interest in hooking a trout (rooms from $145).
DAY 3 It's easy to see how the Blue Ridge earned its name -- layers of peaks really do tint blue in the distance. In downtown Asheville, North Carolina, 87 miles west of the resort, Southern classics (cornmeal-crusted catfish) are made with ingredients from local farms at the Early Girl Eatery (lunch from $6.50). After lunch, it's on to Gatlinburg, Tennessee, where the Bearskin Lodge's lazy river mimics the nearby Little Pigeon River (rooms from $80). To experience the full sweep of the Great Smoky Mountains, take Newfound Gap Road up 6,643-foot Clingmans Dome, the park's tallest peak, where you can see more than 100 miles out on clear days.
DAY 4 En route back to D.C., take in the crystalline formations of Skyline Caverns in Front Royal, Va. And get a sweeping final view of the Shenandoah Valley on a Blue Ridge Hot Air Balloons tour (rides, $200).
Stick around
It's almost a sin not to spend a couple of extra days in Gatlinburg, on the edge of the national park, and explore the Great Smoky Mountains. The options are limitless, from hiking and biking to rock climbing -- but the white-water rafting trumps them all, with no fewer than five world-class rivers in the area. Get a taste through a half-day trip on the 24 Class III and IV rapids of the Big Pigeon River (raft trips from $39).
Coastal Maine and Acadia
A drive from Boston up to New England's only national park takes you through lost-in-time fishing villages and cinematic coastal tableaux.
DAY 1 About 20 miles north of Boston, U.S. 1 curves to meet the Atlantic Ocean, teasing you with glimpses of saltwater marshes and pristine beaches as you make your way to Kennebunkport, Maine, a place so tidy it feels like a movie set. Settle in among the grand mansions on Ocean Avenue at the 10-room waterfront Green Heron Inn. It's worth the stay just for the grilled banana bread with lemon curd and fresh berries for breakfast (rooms from $140).
DAY 2 It's 200 miles to Bar Harbor on Mount Desert Island, and Acadia's northeastern entrance. Make an afternoon tour around the park's 27-mile loop road, which ricochets between lakes, forests, pint-size mountains, and the jagged shoreline. At the century-old Balance Rock Inn, a converted summer home on the water, the innkeeper, Michael, will point you toward a local lobster pound, where fresh lobsters are steamed and served, picnic-style, on the spot (rooms from $125).
DAY 3 From October to early March, the sunrise hits 1,530-foot Cadillac Mountain before anywhere else in the continental U.S., so it's worth the three-and-a-half-mile predawn drive to its summit. That leaves the rest of the morning open for exploring the park's 45 miles of carriage roads -- on a bike (acadiabike.com, rentals from $20) or in a horse-drawn carriage (Carriages of Acadia, 877/276-3622, from $18). In the afternoon, get a whale's perspective of Acadia on a two-hour ranger-led cruise of Frenchman Bay on a 151-foot-long schooner (book at the park's visitors center, 207/288-4585, $32).
DAY 4 Taking the quick route back to Boston doesn't mean bypassing the sights and tastes of New England. Interstate 295 cuts through Portland, Maine's largest city, where an endless string of fishing boats unload their catches at the Harbor Fish Market on the ancient Custom House Wharf, to be shipped around the world or sold in the retail store alongside hundreds of lobsters swimming in massive saltwater tanks.
Stick around
Acadia extends six miles off the coast to tiny Isle au Haut, home to about 50 residents and accessible by mail boat. A stay at four-room Inn at Isle au Haut is a worthy off-the-grid splurge (from $300 with meals).
E-mail to a friend

Get the best travel deals and tips emailed to you FREE - CLICK HERE!
Copyright © 2009 Newsweek Budget Travel, Inc., all rights reserved.
Note: This story was accurate when it was published. Please be sure to confirm all rates and details directly with the companies in question before planning your trip.
All About Parks and Historic Sites