By Clotilde Dusoulier





(Budget Travel) -- It's easy enough to find your average bistro in Paris. The challenge is discovering those off-the-radar spots that locals keep to themselves. Budget Travel leads us to seven restaurants that are destinations in their own right.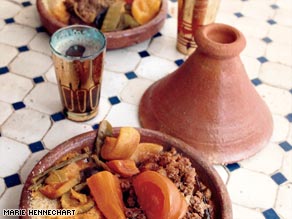 The Traiteur Marocain stall at the Marche des Enfants Rouges offers traditional Moroccan couscous dishes.
8TH ARR. CAFÉ SALLE PLEYEL
In 2007, art deco concert hall Salle Pleyel unveiled a lovely new act: Café Salle Pleyel. Each concert season, a guest chef presents a new menu -- Sonia Ezgulian's hit was her napoleon of Jerusalem artichokes and pears; currently, David Zuddas's most winning dish is a chocolate cake with cardamom crème anglaise.
FIND IT A seven-minute walk northeast of the Arc de Triomphe on avenue Hoche. Métro stop: Ternes. 252 rue du Faubourg St.-Honoré, 011-33/1-53-75-28-44, cafesallepleyel.com, lunch on weekdays, dinner on concert nights only, entrées from $22
14TH ARR. LA CANTINE DU TROQUET
Chef Christian Etchebest first wooed audiences at his Montparnasse restaurant, Le Troquet. His latest venture opened last year and is more casual, with wines starting at $10.50 for a half liter, a menu written in schoolboy cursive on a six-foot-wide chalkboard, and simple specialties such as oeuf-mayo (similar to a deviled egg), Bayonne pork belly, and cherry clafoutis -- all fairly straightforward, but as conceived by Etchebest, extraordinary.
FIND IT A 15-minute stroll northeast on rue de l'Ouest from the Montparnasse Cemetery. Métro stop: Pernety. 101 rue de l'Ouest, closed Sat. and Sun., from $17
3RD ARR. MARCHÉ DES ENFANTS ROUGES
Paris has plenty of food markets, but this one -- nearly 400 years old and named after the children of a nearby orphanage who wore red uniforms -- stands apart for its array of international dishes. Choose from Moroccan, Mediterranean, and Japanese fare, and then grab a seat at one of the many indoor picnic tables.
FIND IT In the middle of the northern section of the Marais, a 15-minute walk from Centre Pompidou. Métro stop: Filles du Calvaire. 39 rue de Bretagne, closed Sun. dinner and Mon., from $13
13TH ARR. CHEZ BLONDIN
When a noodle joint in this building closed two years ago, the chef, Blondin Cissé, convinced the owners to open a restaurant featuring dishes from his native Senegal. Now, boho-chic Parisians flock here for the poulet yassa (chicken and onion stew) and bissap (a drink made from steeped hibiscus).
FIND IT Down the street from the cobblestoned market on rue Mouffetard, not far from the Jardin des Plantes. Métro stop: Les Gobelins. 33 blvd. Arago, 011-33/1-45-35-93-67, closed Sun., entrées from $17
4TH ARR. LES CôTELETTES
Wedged into a blind alley in the Marais, this 45-seat bistro, with its stone walls and exposed-beam ceiling, is as cozy as they come. The menu is a virtual map of France. The asparagus tips, which are sprinkled with chive flowers grown in the chef's garden, come from Provence and the Loire Valley, and the cheeses are from the small town of Machecoul, near the coast in western France.
FIND IT Less than a five-minute walk around the block from the Place des Vosges. Métro stop: Bastille. 4 impasse Guéménée, 011-33/1-42-72-08-45, lescotelettes.com, closed Sat. lunch and Sun. and Mon., from $25
9TH ARR. SUPERNATURE
The natural-food scene in Paris is casting off its hippie vibe, and this pocket-size hotspot -- 12 tables inside, four outside -- gives a taste of what's on the horizon. Run by Severine Mourey, a former Air France flight attendant, Supernature attracts regulars for its signature cheeseburger on a sesame bun and for its Sunday brunch: baked eggs, muesli, wheatgrass shots, and galette de goumeau, a pancake flavored with orange-flower water.
FIND IT Three blocks northeast of the Grévin wax museum. Métro stop: Grands Boulevards. 12 rue de Trévise, 011-33/1-47-70-21-03, super-nature.fr, closed Sat., brunch only on Sun., from $14.50
9TH ARR. LES PÂTES VIVANTES
Passersby often stop in their tracks at the sight of Xiao Rong Coutin hand pulling wheat noodles in the window of this Chinese snack shop. The place is small and the staff nonchalant, but all is forgiven when your steaming bowl arrives. Be sure to slurp the noodles whole. They're a symbol of long life -- to cut is to ask for bad luck.
FIND IT Just over three blocks from the infamous Folies Bergère theater. Métro stop: Le Peletier. 46 rue du Faubourg Montmartre, 011-33/1-45-23-10-21, closed Sun., from $13
E-mail to a friend

Get the best travel deals and tips emailed to you FREE - CLICK HERE!
Copyright © 2009 Newsweek Budget Travel, Inc., all rights reserved.
Note: This story was accurate when it was published. Please be sure to confirm all rates and details directly with the companies in question before planning your trip.
All About Travel Destinations • Food and Cooking • French Food and Cooking