By Jennifer V. Cole





(Southern Living) -- Style has come home to roost in St. Louis. Downtown is experiencing a major revitalization, powered by a brigade of young artists and designers who are giving the area a new lease on life, much like that vintage Chanel handbag you found in your grandmother's attic.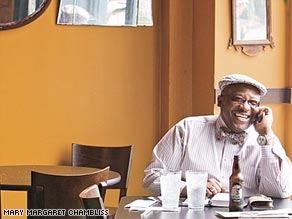 Downtown St. Louis is experiencing a revitalization, powered by artists and designers.
Spend a few days in the fashionable Garment District and see for yourself: arch designer Eero Saarinen definitely wasn't the last person to add a little flair to the Gateway City. On the banks of the Mississippi near Laclede's Landing, two new hotels -- Four Seasons Hotel St. Louis and HoteLumière -- anchor this month's Fashion Week.
On Washington Avenue (the central artery of the Garment District), where buildings wear names such as Bee Hat, International Shoe, and Knickerbocker, independent boutiques showcase buzz-worthy local designers. Once-abandoned clothing factories are now filled with an influx of restaurants, lofts, and the requisite retro-chic bowling alley with martini bar -- Flamingo Bowl. SouthernLiving.com: Take me to St. Louis
Garment District
With so much packed into this compact area (about 37 blocks), the Garment District invites you to roam for a weekend or longer. The Time Boutique pays tribute to modern classics -- this is the place to snag that perfect little black dress -- and has a full-service, in-store salon.
Book a wardrobe consultation with owner Jennifer Gray to pull together your fashion foundation and learn how to edit your closet to best showcase your body type. Think of it as your own personal "What Not to Wear." Make sure you stop by the Charm jewelry boutique on 11th Street, where works by local artists are sold. The stand-out collections include Heather Robinson's vintage reimagined Love Bird line for modern romantics.
St. Louis style
Style isn't just what you wear. Shops such as UMA urban materials + accessories cater to the fashionista at home with ultra-mod accessories, including Tyvek accordion room dividers, Chilewich place mats, and bold Tepper Jackson luggage tags.
Carefully selected wares by artisans from France, Italy, and Mexico take pride of place at Salt of the Earth. Owner Michael Lynch regularly makes trips to buy directly from the artists and relates fascinating stories about the pieces on display. Look for multicolored striped trays by renowned glass artist Orfeo Quagliata from Mexico City.
St. Louis fashion week
You don't have to dream about runways at New York's Bryant Park to get your fashion fix. March 23-29 national and local designers preview the newest fall and winter looks. And you don't need credentials from Vogue to get a ticket -- it's open to the public at Lumière Place Casino & Hotels. Visit www.saintlouisfashionweek.com.
Schedule an appointment with an up-and-coming local designer for a one-of-a-kind look.
Amy Johnson, KayOss Designs: Classic cuts (skirts, halters) with a flirty twist, in a variety of materials from silk to organic cotton; for the person who wants to be noticed, without going over the top. www.kayossdesigns.com or (314) 398-9098. Pieces from $125.
Miriam Coffey: Hand-loomed knitwear in organic, sustainable fabrics and yarns; for fans of Art Nouveau, with a modern bent. E-mail: miriam coffey@gmail.com. Pieces from $80.
Suzanne Lay:, Edgy knits in a sherbet palette that say "comfortable, but sexy"; for the country girl with a streak of city chic. http://www.suzannelay.com/ or (314) 302-3700. Pieces from $150.
Carmella Simpson, Mella Y: A "historically hip" aesthetic that borrows a little of Elsa Schiaparelli's whimsy and Vivienne Westwood's punk; for the bold fashionista. http://oddictionstl.com/default.aspx or (314) 401-7135. Pieces from $300.
IF YOU GO ...
SHOP
The Time Boutique: 922 Washington Avenue; www.thetimeboutique.net or (314) 974-8463
Charm: 313 North 11th Street; www.charm-boutique.com or (314) 588-8203
Salt of the Earth: 1123 Locust Street; www.salt-earth.com or (314) 241-8008
UMA urban materials + accessories: 1100 Locust Street; www.iloveuma.com/home/blog/ or (314) 241-9990
STAY
HoteLumière: A modern all-suite property -- imagine the love child of W Hotels and Homewood Suites. 999 North Second Street; www.lumiereplace.com or (314) 881-7777. Rooms from $119.
Four Seasons Hotel St. Louis: The latest luxury outpost in St. Louis -- all the glitz and glam you need for a high-fashion weekend. 999 North Second Street; www.fourseasons.com or (314) 881-5800. Rooms from $195. (Rates are subject to change.)
EAT
Burger Bar: Casual bastion of beef: from an American cheeseburger to one made of Kobe and topped with foie gras. 999 North Second Street; www.burgerbarsaintlouis.com or (314) 621-9593
The Dubliner: Traditional Euro-style gastropub where fans stop in to watch the "footy" matches over a pint. 1025 Washington Avenue; www.dublinerstl.com or (314) 421-4300
Mosaic Modern Fusion: Funky flavors that work: cardamom-and-espresso smoked ribs, basil gelato, mole bread pudding. 1001 Washington Avenue; www.mosaicrestaurants.com or (314) 621-6001
Rooster: Classic French crêperie, complete with mismatched gilded mirrors and potent espressos. 1104 Locust Street; www.roosterstl.com or (314) 241-8118
SLeeK: An aptly-named steak house by chef Hubert Keller (of San Francisco's Fleur de Lys; guest judge on Bravo's Top Chef). 999 North Second Street; http://www.fleurdelyssf.com/ or (314) 621-9590
E-mail to a friend

Enter to win a monthly Room Makeover Giveaway from MyHomeIdeas.com
Copyright 2009 Southern Living magazine. All rights reserved.
All About Fashion and Style • Travel and Tourism