By Jessica Ravitz
CNN





(CNN) -- From hot dogs in the American heartland to the sexy samba on South American beaches, from traditional Kabuki theater amid high-tech modernity to European culture and sophistication, four international cities hope to showcase what they have to offer the world on the Olympic stage.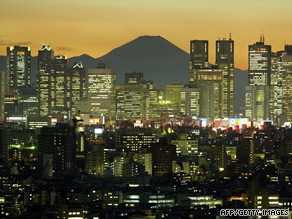 The ultramodern Tokyo, Japan, skyline rises in front of iconic Mt. Fuji.
The countdown clocks are ticking for Chicago, Illinois; Rio de Janeiro, Brazil; Tokyo, Japan; and Madrid, Spain. The International Olympic Committee, now gathered in Copenhagen, Denmark, will vote Friday to determine the winning host city for the 2016 Olympic Games.
"The spirit, the energy, the cultural background -- they're all really different," said Don George, a longtime travel writer and editor. "Any one of them would be a terrific choice."
Added Erik Torkells, editor for TripAdvisor, the world's largest online travel community, "There's not a dog in the bunch."
Unlike the committee, you don't have to choose just one. Here's why you should visit each of these cities, even if they don't grab those Olympic rings.

Weigh the pros and cons for Olympic purposes »
Chicago, Illinois
"Broad-shouldered" is the adjective George likes to use when describing this all-American metropolis. "The buildings are big. Really solid people built this city, the kind of people who made America work."
And while that hard-driving ethic created the place, there's an appreciation and celebration of the arts and culture, too, said George, who heads up Recce, an online literary travel site, writes a column for National Geographic Traveler and blogs for and edits the online Adventure Collection.
Visit the Field Museum, take time for a picnic and the public art in Millennium Park, or enjoy a stroll and the view along the shore of Lake Michigan, he suggested. Feast on the hot dogs, deep-dish pizza or a nice cut of meat in a steakhouse. Shop along Magnificent Mile, or take the "pilgrimage" all baseball lovers make to Wrigley Field.

Learn about Obama's Olympic effort »
Rio de Janeiro, Brazil
"Rio is full of all things quintessentially Brazilian: sun, sand, soccer, samba, sensuality," the editorial director of Fodor's Travel, Laura Kidder, wrote in an e-mail. "In Rio, it's about taking each day as it comes and living life to the fullest."
Nestled between mountains and beaches, including Ipanema and Copacabana, the city offers a 24-hour party, Torkells said.
No South American city has ever been selected to host the Olympics, and in some people's opinion, it's about time one was.
"If the Olympic Committee wanted to be sure everyone had a good time, they'd go to Rio," Torkells said. "If they want to make sure everything runs on time, they'd go to Tokyo."
Tokyo, Japan
An island country, Japan has a maintained a culture that's its own, Torkells said.
Including the immaculate and always-on-time rail system, "everything is different," he said. "Going to the bathroom is a cultural experience," featuring toilets in some high-end locations that are "like a day at the spa."
George, who lived in Tokyo for several years, visits frequently and described it as being "so full of energy and inventiveness."
What wows him is the blending of the new and old, he said. Around the Asakusa temple, visitors can steep themselves in traditional Japan, going back centuries. But in other parts of the city, they can lose themselves in the high-fashion, high-tech and über-hip youth culture.
Madrid, Spain
Combining the cosmopolitan with historic architecture, Madrid is a city that invites walkers to wander and explore, Caroline Trefler, editor of Fodor's, said in an e-mail.
"It's no wonder Madrileños take el paseo (the stroll) so seriously, " she wrote.
Since 2004, the three major museums in the city -- the Prado, Reina Sofia and Thyssen-Bornemisza -- have doubled in size, Torkells said. And the new high-speed train between Madrid and Barcelona has cut an eight-hour journey to three hours, an obvious plus for travelers.

The chefs are creative, the nightlife rich, the streets bustling. And the city doesn't feel overrun by tourists, Torkells said.
"But people don't eat dinner till midnight," he warned. "If you don't know that, you'll have a miserable time, because you'll be alone in the restaurants."
E-mail to a friend

All About Olympic Games • International Olympic Committee