By Paul Willis
For CNN






LONDON, England (CNN) -- It could be that Arnold Schwarzenegger is the man Californians go to whet their political appetites.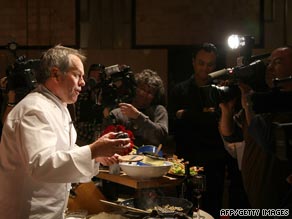 Puck's time in Hollywood has taught him how to work the camera.
But if it's real nourishment they're after, then there's another Austrian in the golden state they're far more likely to call on.
Wolfgang Puck is the celebrity chef to rival all others. With a range of high-end restaurants in Los Angeles, and a multi-million dollar food empire with tentacles spreading across the U.S., he's the Prussian with the Shakespearean surname who has conquered America.


Watch Wolfgang Puck take CNN on a tour of L.A. »

Coming to L.A., via Michelin-starred restaurants in France and the American Midwest, Puck built his reputation as much on the quality of the clientele coming through the doors as on the quality of the food and the innovations he introduced -- he's credited with inventing the designer pizza, for example.

In the city of the stars, Puck is the celebrities' celebrity chef. He opened Spago, his flagship restaurant in Beverly Hills in 1982 aged just 28. Over the last three decades the place has become a haunt of the stars, with the cream of Hollywood returning time and again to sample the culinary fusion he called "California cuisine."


See pictures of Wolfgang Puck's life »
Sydney Poitier remains a regular, Elton John holds his post-Oscars party there and, for the last 15 years, Puck has been the official caterer for the annual Academy Awards.
My City_My Life
Each month CNN visits the world's coolest cities with the celebrities who know them best.


Today, aged 60, his brand is everywhere: from frozen pizzas to airport restaurants.
But it wasn't always like this. Like his compatriot Governor Schwarzenegger, Puck has an improbable rags-to-riches tale to rival the best American success stories.
He has come a long way from his humble origins in rural Austria, where he grew up with no fridge, no running water and an outside toilet 100 yards from the house.
Through all these privations, the one standard his mother kept to was giving her children excellent food.
She used fresh vegetables picked from the garden, made her own cheeses, raviolis and desserts and each fall the family saved up for a whole pig that she used to make ham and sausages that saw them through the winter.
In the end the passion for food his mother engendered in young Wolfgang became a source of conflict between him and his stepfather. Puck senior disapproved of his ambition to be a chef, which he viewed as too effeminate a vocation for a man, and at 14 Puck the younger left home against his parents wishes, traveling to France to follow his dreams.
"My father told me 'you are a good for nothing, you will come back in three weeks' and I said 'I am never coming home,'" he told CNN. "I said 'one day I'm going to come in my Mercedes and drive through your house - you will see!'"
The precocious young chef with a flair for drama eventually found his natural home in the entertainment capital of the world.
And it is L.A. and the surrounding landscapes of southern California that have inspired much of his cooking. The California cuisine which he helped to create reflects the melting pot of cultures that he encountered in the city. "In 1982 when I opened Spago I didn't know what to call it," he said. "It's not French, Chinese or Italian; it has a little bit of everything. So we called it California cuisine."

His years dishing up culinary delights to Hollywood A-listers have made him plenty of friends in the movie industry. Yet thanks his restaurants, Puck understands the less glamorous reality of life in Lalaland. Many staff in his restaurants are jobbing actors struggling to get their big break in the movies.
It has left him philosophical about the hordes of people who come to L.A. every year in search of stardom. "Acting is a very artistic profession and there are thousands of people out there who think they are actors but there are very few who have real talent," he said.
E-mail to a friend