From Shelby Erdman
CNN Radio





(CNN) -- Tough times mean many Americans are considering shelving plans for a summer vacation. But don't give up on the chance for a much-needed stress reliever just yet.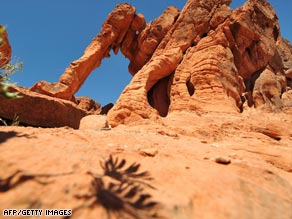 On a tight budget this year? State parks are a great travel deal. This is Valley of Fire State Park in Nevada.
Travel experts say a persisting recession can mean great travel deals as hard-hit tourist destinations are clamoring for business.
Cities, hotels and tourist attractions are offering unbeatable summer deals, trying to lure in customers, says Peter Greenberg, a travel correspondent who now runs his own travel Web site.
Greenberg says ailing tourism puts travelers in the driver's seat when it comes to bargaining for a good value. You might be able to negotiate everything from free rooms for kids to free parking at big-city hotels to discount passes to attractions and events. Some cities are willing to throw in unlimited mass transportation.
"That's a great deal," Greenberg says.
Try cruising the Caribbean for $35 a day. Greenberg says it's possible to find a seven-day cruise for $249.
"I challenge anyone to tell me they can even wake up in their own city for $35 a day," he says.
But in the midst of an economic crisis, the idea of leaving home understandably may not be that appealing to even the most budget-conscious. The U.S. Travel Industry Association predicts 2.2 percent fewer Americans will travel this summer than did last year.

Watch report on Big Apple bargains »
Still, the association forecasts 322 million domestic -- though perhaps less glamorous -- leisure trips for Americans between June and August. Travelers are expected to take an average of two trips this summer, though 40 million Americans have yet to decide whether they can afford to get away during a recession.
Roger Dow, the association's president, encourages those wary travelers to shop aggressively for deep discounts and also look closer to home.
With gas prices a dollar lower per gallon than they were last summer, backyard bargains could turn into vacation hot spots.
"You could even do a tour of state parks," Dow says.

Watch report on seeing St. Louis on the cheap »
John Edman, director of Minnesota's tourism department, says that state has refocused its advertising.

"People are looking for little breaks, they're looking to create last-minute trips," Edman says. "They're not planning like they had in the past. And what we're doing is we're focusing on those things people can do in their own backyard."
Edman's advice? Don't sacrifice a holiday. Be creative and that much-needed break won't bust the pocketbook.

E-mail to a friend

All About Travel and Tourism • U.S. National Economy