By Thom Patterson
CNN





ATLANTA, Georgia (CNN) -- Thirty minutes before Ann's Snack Bar is scheduled to open, about a dozen hungry burger lovers wait outside to taste what The Wall Street Journal dubbed "the best burger in America."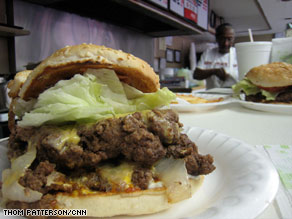 Ann Price works behind the counter after serving a "Ghetto Burger," which was dubbed America's best.
Through the tiny joint's glass storefront, patrons can see Ann Price, the owner, cook and server.
Miss Ann -- as she's known -- is already at work cutting onions and making hamburger patties.
Sticking her head out the door, she announces, "We're not open till 11:30."
For more than three decades, word has been spreading about Miss Ann's "world famous Ghetto Burgers," drawing aficionados from across the nation. But patrons be warned: follow Ann's rules -- or else.
"She tossed me out of the restaurant," said George Motz, creator of the book and film documentary "Hamburger America."

See locations of five unique burger joints »
Motz was ejected because he was unaware of Miss Ann's longstanding rules governing her lunch counter: The author and filmmaker was unaware that customers may enter only if one or more of the joint's eight stools are available.
Finally a seat opened up and Motz got a Ghetto Burger: a humongous concoction that includes ground beef, bacon, tomato, lettuce, cheese, seasoning, mustard, mayonnaise, onions and chili on oven-toasted buns.
The hamburger is the people's sandwich, said Motz, who researched his book and film by traveling thousands of miles and visiting some 3,500 burger joints.
"It's an everyman food," said Motz. "Anybody can make one. It gives you everything you need in one handful. It gives you sweet -- it gives you salty. Americans associate the hamburger with America and they're very proud of that."
Guy Fieri, TV host of Food Network's "Diners, Drive-ins and Dives," is another man who has sampled many burgers during his cross-country travels. He believes the hamburger is an American icon that has won appeal from every culture in the nation's melting pot. He also feels the sandwich has been the target of some abuse.
"I think some people have played with its reputation a little bit," Fieri said. "I can't say I'm a fan of a pre-cooked frozen patty on a bun, packaged in a cellophane container."
The burger has come a long way from its origins. Louis' Lunch in New Haven, Connecticut, is one of a handful of places that claim to be the birthplace of the hamburger.
"They've been making hamburgers since 1900," said Motz. "They make their burgers on white toast because when they started making them, there were no buns. Buns didn't come around until White Castle started making them in 1921."
From the moment you walk into the place, you get a real taste of the 19th century, Motz said. "They use these tiny little antique stoves from 1885 and all the grease drips into the pan below," he said. "It's an amazing hamburger experience. Very unique."
"There's been a lot of unusual burgers," said Fieri, recalling his culinary travels. "At The Triple XXX in West Lafayette, Indiana, across from Purdue University, they put peanut butter on a burger. People order it, people like it and -- whatever floats your boat."
The Triple XXX has been serving unique burgers -- such as its Duane Purvis All-American. The sandwich is named after a Purdue football player who played from 1932 to 1934. "Add thick creamy peanut butter on the lower deck and you're in for the touchdown!" says the menu.
Far to the south, tucked away in tiny Holly Springs, Mississippi, Phillips Grocery offers a tasty meat treat whose recipe may be linked to the Great Depression, said Motz.
The owners of Phillips won't acknowledge it, said Motz, but it's "one of the last great slugburger restaurants."
Slugburgers were invented during the Depression, Motz said, when cooks would add day-old bread to ground beef as a way to make more burgers.
The cooks at Phillips won't reveal their secret recipe he said, but "the burgers are so good there that of course they're obviously afraid of losing their secrets. But I know what they're doing. It's definitely breading in there."
Hodad's, near San Diego California, in the shoreline community of Ocean Beach, has been making burgers since 1969, and its Web site boasts, "under 99 billion served."
"They have a burger where they make a bacon patty that goes on top of the burger that is just ridiculous," said Fieri. "I think the supporting characters of a burger deserve recognition. You look for great components to go along with burgers like great bacon, great bun, great tomatoes, crunchy lettuce, quality mayonnaise, handmade ketchups, and the right mustards. Everything has to compliment and co-exist."

As for Atlanta's Miss Ann, the future of her Snack Bar and its Ghetto Burger appears to be up in the air.
In a "couple of months" Ann says she plans to put her burger joint for sale. Her secret Ghetto Burger recipe will be sold separately "if the price is right," she said smiling, with a little wink.
E-mail to a friend

All About Mississippi • San Diego • Atlanta