By Marguerite Reardon






(CNET) -- BlackBerry users around the country were without e-mail for about 3 hours in a nationwide outage that affected users on all major wireless networks.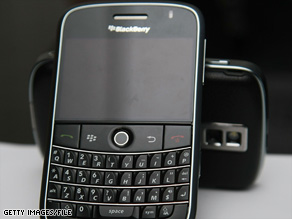 In April 2007, Blackberry's enterprise service had an outage that left millions of corporate users without e-mail.
From about 1 p.m. EDT to about 4 p.m. EDT people who subscribe to a BlackBerry e-mail service through their wireless carrier instead of being offered the service through their companies, could not send or receive e-mail or access the BlackBerry Internet Service Web site.
They also weren't able to create new accounts, access their Internet mailboxes, integrate third-party e-mail accounts, or view e-mail attachments during this time.
Marisa Conway, a spokeswoman for Research In Motion, the company that makes the BlackBerry devices and operates its push-e-mail service, said that "some customers experienced a delay receiving e-mail earlier today, but it wasn't system-wide." Service is now operating normally, she added.
But a representative from Sprint Nextel confirmed the outage and said the outage also affected the BlackBerry Internet Service Web site.
Subscribers on all four major U.S. wireless networks--AT&T, Sprint Nextel, T-Mobile USA, and Verizon Wireless--complained that they had no access to e-mail until about 4 p.m. EDT, at which time they started getting a flood of e-mails that had been sent earlier in the day.
Research In Motion, the company that makes BlackBerry smartphones, offers two main services for connecting to the Internet and getting access to e-mail.
The first is RIM's enterprise solution, which requires companies use a BlackBerry server through which all corporate e-mail goes through. It links directly with a user's work e-mail, contacts, calendars, and business applications.
The other service offered by RIM is the BlackBerry Internet Service, whrough which it provides consumers with connectivity to personal e-mail services and the subscriber's carrier acts as the liaison between the users e-mail and the BlackBerry smartphone.
RIM uses a centralized architecture to filter all its e-mail traffic and push it out to consumers' phones. Critics of the BlackBerry service and architecture say that this centralized approach makes the service more vulnerable to outages.
And indeed, the company has had some serious outages in the past. In April 2007, the company's enterprise service suffered a huge outage that left millions of corporate BlackBerry users without access to e-mail.
While any sort of outage is not good, the fact that the problem affected consumers rather than corporate customers is an important distinction. Some of the BlackBerry users, who had lost e-mail for a few hours, said they didn't even notice that they weren't able to send or receive e-mail.
By contrast, during the massive corporate BlackBerry two years ago, consumers felt the affect more acutely as many business users rely on their BlackBerry devices for corporate e-mail.
That said, there are still many small-business and self-employed people using RIM's BlackBerry Internet Service for business purposes.
What's more, as RIM aggressively courts consumer customers, the company will need to avoid service glitches of any kind to woo consumers that already have a wide array of options when it comes to smartphones.
The smartphone market is highly competitive, and cell phone users don't need another reason to choose an alternative device, such as Apple's iPhone or the upcoming Palm Pre.
E-mail to a friend

© 2009 CBS Interactive Inc. All rights reserved. CNET, CNET.com and the CNET logo are registered trademarks of CBS Interactive Inc. Used by permission.
All About BlackBerry Mobile Devices