By Brandon Griggs
CNN






This is CNN.com's App Wednesday feature. Each week, we feature one or a few mobile phone apps that have caught our attention. Feel free to chime in with tips on how to use these apps, or tell us what we missed.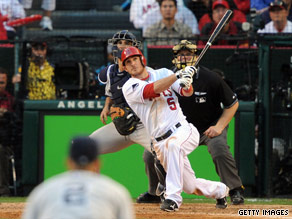 For $9.99, MLB's app will let you watch playoff highlights on your iPhone.
(CNN) -- With Major League Baseball's playoffs heating up and the World Series on deck, it's a great time of year to be a baseball fan.
But keeping up with all the games, or even just the highlights, can be tough for people on the go.
Here are three iPhone applications that should satisfy fans' cravings for baseball news, scores, video highlights and even a little gaming.
They're a little taste of the diamond -- on your phone.
MLB.com At Bat 2009 ($9.99)
Developed by Major League Baseball, this is the gold standard of baseball apps. At $10, it better deliver -- and it does. The app offers real-time play-by-play, real-time box scores and live audio feeds of every postseason game -- including such geeky data as pitch speeds and locations. A free version with fewer features is also available.
Pros: You can watch a 10-to-12-minute video recap after the game ends, plus choose from dozens of on-demand highlight clips. During the regular season, this app also boasts a TV-produced live video feed of games.
Don't Miss
Cons: The slick TV feed isn't available for postseason games, although you can still watch live streams of games from a menu of up to 10 stationary camera angles.
Sporting News Baseball (free)
Don't want to shell out 10 bucks but still want real-time updates on the Angels-Yankees series? This app features scores, schedules, stats and customized news about your favorite team, some of it by writers at The Sporting News, the venerable sports publication.
Pros: The application also caters to fantasy baseball junkies with blogs, rankings and player stats. That's no help this season, of course, but it might give you a leg up on planning for next year.
Cons: There's no video.
MLB World Series 2009 ($2.99)
This MLB-sanctioned video game allows you to play as any one of all 30 major league teams and against any opponent, meaning bitter Red Sox fans can challenge the 2009 Yankees over and over. Strangely enough, though, the game features only 10 ballparks.
Pros: For an extra dose of reality, you can pit the Dodgers against the Phillies and the Angels vs. the Yankees in your own postseason bracket. Virtual depictions of all four ballparks are available.
Cons: The game uses the iPhone's multitouch screen and accelerometer to pitch, swing the bat and field, although the interface is a little balky. And if you accidentally select French as your language, there's no way to switch back to English.
E-mail to a friend

All About Apple iPhone • MLB Baseball