Editor's note: In this new weekly feature, we highlight five recommended Twitter feeds about a hot topic in the news. Today's list focuses on space-related tweets and NASA's plan to crash two spacecraft on the moon Friday in a search for water in lunar soil.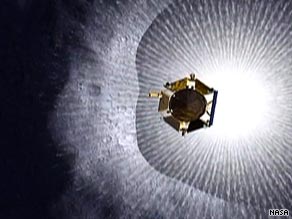 A NASA rendering of the LCROSS spacecraft entering a debris plume on its way to the moon.
(CNN) -- 1. NASA's Ames Research Center -- This Silicon Valley-based complex is ground zero for the Lunar Crater Observation and Sensing Satellite mission, which climaxes with Friday's lunar crashes. Officials invited the public to spend the night outdoors at the center to watch the crashes occur shortly after 4:30 a.m. California time. Ames staffers' enthusiasm for the LCROSS mission is evident in their breathless tweets, which are full of exclamation points!
Number of followers: more than 3,500
Sample tweet: Brace for Impact! A Schedule of Events for the Final Day http://bit.ly/S8mzy
2. "Astro Mike" -- That would be Mike Massimino, a NASA astronaut who has flown two space shuttle missions. On May 12 of this year, during a Hubble servicing mission on the shuttle Atlantis, Massimino became the first person to tweet from space. He's since become far and away the most popular space-themed Twitterer.
Number of followers: more than 1,066,000
Sample tweet: "Flew in a T-38 this morning, got to cloud surf-flying just above the clouds like a big fluffy blanket below going 350 mph."
3. BadAstronomer -- Phil Plait isn't a bad astronomer, just a self-described skeptic who hates bad astronomy. The Boulder, Colorado-based lecturer and author writes a witty blog -- called, strangely enough, Bad Astronomy -- that delights in poking holes in wacky or misinformed theories about space. Yes, moon-landing hoax theorists, he means you.
Number of followers: more than 21,000
Sample tweet: "Man, if you're too busy to write 140 chars, you're too busy. I am that busy."
4. astroengine -- Astroengine is the Twitter name of Ian O'Neill, a British-born physicist with a long resume and a healthy sense of humor. It's also the name of his blog, which gathers articles and posts on such light-reading topics as quantum mechanics, solar physics, relativity, cosmology, space flight science and "some of the more bizarre theories that drive our universe."
Number of followers: more than 1,700
Sample tweet: "Europa, Jupiter's Moon, Could Support Complex Life http://bit.ly/3n6iKL (I, for one, welcome our alien Jellyfish Overlords)"
5. LCROSS_NASA -- The official Twitter feed of the LCROSS moon mission, it's written from the point of view of the spacecraft. That's right -- if the satellite could tweet before smacking into the moon, this is what it might say. Most tweets give updates on the craft's position in the sky, beginning with the Waldo-esque question, "Where am I now?"
Number of followers: more than 10,000
Sample tweet: "Where am I now? Travelin' 1.20km/s(2682mph). 51,336km from the Moon. Did you know you can watch the impact on NASA TV? http://ub0.cc/hM/1Y"
E-mail to a friend