By Elise Labott
CNN State Department Producer





WASHINGTON (CNN) -- U.S. officials say the Internet, and specifically social networking sites like Twitter and Facebook, are providing the United States with critical information in the face of Iranian authorities banning Western journalists from covering political rallies.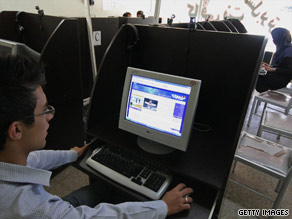 An Iranian youth reads a political blog in an Internet cafe.
Because the Iranians have shut down Web sites and closed newspapers, one senior official said, "one of the ways people are able to get out the word is Twitter."
"There are lots of people here watching" at bureaus and offices across the State Department, another senior official said. "There are some interesting messages going up."
Because the United States has no relations with Iran and does not have an embassy there, it is relying on media reports and the State Department's Iran Watch Offices in embassies around the world. The largest such offices are in Dubai, United Arab Emirates; Berlin, Germany; and London, England, all home to large Iranian expatriate communities.
Although officials would not say whether they were communicating with Iranians directly, one noted that the United States is learning about certain people being picked up for questioning by authorities through posts on Twitter.
"It is a very good example of where technology is helping," the official said.

Watch some online reactions to the election »
Senior officials say the State Department is working with Twitter and other social networking sites to ensure Iranians are able to continue to communicate to each other and the outside world.
Don't Miss
CNN is also extensively monitoring social networks as an integral part of its reporting on the situation in Iran. iReport.com: Share your story with CNN
At a briefing with reporters Tuesday, spokesman Ian Kelly said the United States was monitoring the situation in Iran through a number of media, including social media networks like Facebook and Twitter, but deflected questions about the State Department talks with Twitter.
"We've highlighted to them the importance of these social media," Kelly said of the conversations with Twitter executives. "This is about the Iranian people. This is about the giving their voices a chance to be heard. One of the ways that their voices are heard are through new media."
The United States is staying hands-off of the election drama playing out in Iran, and officials say they are not sending messages to Iranians or "quarterbacking" the disputed election process.
But they do want to make sure the technology is able to play its sorely needed role in the crisis, which is why the State Department is advising social networking sites to make sure their networks stay up and running for Iranians to use them and helping them stay ahead of anyone who would try to shut them down.
For example, senior officials say the State Department asked Twitter to refrain for going down for periodic scheduled maintenance at this crucial time to ensure that the site continues to operate.

"They announced they were going to shut down their system for maintenance, and we asked them not to," one official said, adding that the discussions were meant to "highlight to [Twitter] that this was an important means of communication, not with us but horizontally in Iran."
The situation in Iran is a real-world example of the State Department's efforts to increase use of technology in diplomacy, including social networking sites, Web video and text messages to reach large numbers of people who would otherwise be difficult to reach.
E-mail to a friend

All About Iran • Twitter Inc. • Facebook Inc.