By Brandon Griggs and John D. Sutter
CNN





(CNN) -- Millions of people download 99-cent games for their iPhones. An increasing number of Web sites offer free online games. And consumer spending is down amid a global recession.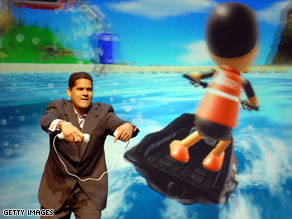 Nintendo of America President Reggie Fils-Aime demonstrates a Wii game at last year's E3 show.
Is this the time to be promoting $200 video-gaming consoles and $60 games?
But that's what's going on this week in Los Angeles, California, where the video game industry will show off its newest hardware and titles at the Electronic Entertainment Expo.
As the largest annual trade show for gaming enthusiasts, E3 is where the big players roll out their splashiest releases. Industry experts say Microsoft is expected Monday to unveil new motion-tracking technology that will let gamers use their bodies to act out what their characters do in a video game.
The device sounds similar to Nintendo's popular Wii. But the new Xbox accessory is expected to employ a camera that senses a player's body movements so it doesn't require a handheld remote, as the Wii does.
Games that have nontraditional accessories instead of joystick or push-button controllers -- think the guitar from "Rock Band" and "Guitar Hero," or skateboards and DJ turntables, which are expected to be part of new games -- also should be popular at the show, said Brian Crecente, editor-in-chief of Kotaku.com, a video game news site.
Crecente said these game accessories are throwbacks to 1980s arcades. They appeal to a broader group of users because they're intuitive, he said. Anyone can see a steering wheel or a guitar and know what it's supposed to do, but controllers or keyboards don't translate as well to real-life experiences.
Accessories and gesture-tracking technology show that gaming companies are becoming more interested in general consumers than the hard-core gamers who used to be their chief targets, said Christopher Grant, editor of Joystiq.com and a judge at E3.
Microsoft and Sony feel like they've been beaten to the growing market of casual gamers by Nintendo, which has had success with the Wii, he said. Grant expects the other two big game makers to try to move into Nintendo's territory at this week's show.
Online-only games and games developed for mobile phones are not likely to get much play at E3, which is run by the Entertainment Software Association and tends to cater to its larger members, attendees said.
"Definitely you see the industry being dominated by big brands and familiar faces," said Grant, who doesn't believe the big console makers have released much in the way of innovation in recent years.
But recent grassroots efforts -- led most visibly by developers who've struck it rich creating games for Apple's iPhone -- are shaking up the industry by challenging the idea that video games must be purchased from a store and played on a console that's hooked up to a television.
"My guess is that what you're going to see at E3 is kind of a paradox," said Jason Della Rocca, an industry consultant and former executive director of the International Game Developers Association. "On one hand you're going to see the big traditional companies ... and then right next door you're going to see the small nimble, maybe independent studios working on Facebook games or games for social networks or the iPhone stuff."
The iPhone has become a premier device for independent developers to share their games with consumers. Eight of the top 10 free iPhone applications are games, as are 7 of the top 10 paid apps, which range in price from $0.99 to $5.99. That compares to $60 for hard copies of games available on popular game consoles like the Xbox, Wii and Sony's PlayStation.
Downloading games onto those systems is less expensive, but still not free.
Other methods of paying for games, such as pay-as-you-play models that are free unless players want to buy new weapons or perks, also are rattling the industry.
Such efforts could soon start to pull business away from the large video-game makers, said Anita Frazier, a video game industry analyst with research firm The NPD Group, in an e-mail.
The slumping economy also serves as an interesting backdrop for E3, which kicks off officially Tuesday at the Los Angeles Convention Center.
At the beginning of the year, the video game business seemed more resistant to the global recession than most industries. Video-game software sales in the United States were up 15 percent in 2008 over the previous year, according to The NPD Group.
But in March and April, overall video game sales in the United States slumped 17 percent compared to the previous year, to $1.43 billion, NPD reported.
Grant, the Joystiq editor, said the video game industry remains resilient despite its recent struggles. The large game makers own so many brands that they're able to mask the recession's effects by rolling out sequels to existing games, he said.
Among the most anticipated titles at E3 this week are such sequels as "The Beatles: Rock Band," "God of War III," "Guitar Hero 5," "Assassin's Creed 2" and a possible second downloadable episode for "Grand Theft Auto IV."

Watch G4tv's Kevin Pereira talk about the latest games »
Budget-minded consumers have not given up video games in the same way they've backed off from travel or other forms of entertainment, Grant added.
"People don't necessarily go out to dinner as much, which doesn't mean they're not staying home and playing video games," he said.
Libe Goad, editor-in-chief of AOL GameDaily, believes the biggest trends in gaming this year will be smaller games for people with short attention spans or time constraints who want to play for five minutes at a time. Goad also expects more offbeat games based on TV shows such as "The Biggest Loser."
Mike Gallagher, chief executive officer of the Entertainment Software Association, which runs and owns E3, is predictably bullish on the state of the industry. Some 40,000 attendees are expected at the show this year -- a big increase over the 2008 event, which restricted attendance to industry insiders.

Gallagher said video game companies do not feel threatened by mobile and online games. He said "homemade" games show that, as a medium, video games remain strong.
"It's a sign of the emergence of video games as a driver of culture and a form of speech and entertainment, more than anything else," he said.
E-mail to a friend

All About Video Games • Apple iPhone 3G