By Marguerite Reardon






(CNET) -- It's summer time. And you know what that means: Harrowing international travel with your cell phone.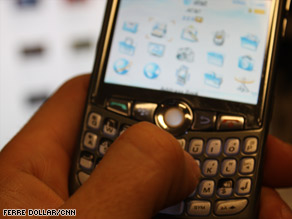 Using a cell phone oveseas can be tricky unless you're prepared.
While the sour economy may be keeping some travelers closer to home this summer, good deals on flights and hotels, and the growing strength of the U.S. dollar are enticing some travelers to grab their passports and book a flight to Europe and other parts of the world.

And since cell phones are now so much a part of our everyday lives, it's hard to part with them when we hop on a plane to another country. But stories of $3,000 iPhone bills when we return have scared many consumers into turning off their phones or leaving them at home.
But what if you'd like to check in on the kids back home during your trip, or you need to find your travel companions while wandering around the Gothic quarter in Barcelona? Or maybe you've met some nice locals who want to catch up with you later, but they need your number to text you? Well, I'm here to tell you that firing up the cell phone in another country need not be as scary or expensive as you think.
But first you need the facts. To help you get started, I've put together this FAQ that can answer some basic questions about which phones and carriers offer service abroad and how much you can expect to pay. For more information, check out your carrier's Web site.

Does it matter which wireless operator I have if I want to use my phone abroad?
Yes it does. While all of the four major wireless operators in the U.S. can provide international roaming in some parts of the world, some carriers are more limited in where they can offer service based upon the technology they use.
In the U.S. wireless operators use two main cellular technologies: GSM and CDMA .
GSM, or global system for mobile communications, is used throughout much of the world, including in Europe (where it's the standard), Canada, Latin America, the Caribbean, Africa, Australia, and New Zealand, as well as much of Asia and the Middle East. In the U.S., AT&T and T-Mobile USA operate GSM networks. As a result AT&T and T-Mobile have the most extensive networks abroad.
AT&T has roaming agreements in more than 190 countries throughout the world. Its triband and quadband phones will work in most parts of the world, except in Japan and South Korea, where you'll need a special phone that either supports CDMA or uses the 3G standard UMTS in the 2100 MHz frequency band. Sony Ericsson, Nokia, and a few other phone manufacturers now offer multi-band GSM phones that also include support for UMTS 2100. Coverage also extends to some cruise ships.
T-Mobile USA is owned by German telecom provider Deutsche Telekom, which operates its T-Mobile wireless service in seven countries in Europe, including Germany, the U.K., and the Netherlands. T-Mobile has roaming agreements with over 190 countries and also provides service throughout Central America, Australia, much of South America, and some countries in Africa. It also offers coverage on some cruise ships. Like AT&T, service in Japan and South Korea requires a special phone.
CDMA, which stands for code division multiple access, has less worldwide coverage than GSM. The U.S. is one of the biggest markets for CDMA. This is the technology that is used by the largest operator in the U.S.: Verizon Wireless. Sprint's PCS network also uses CDMA. The old Nextel portion of Sprint's network uses a different technology called iDEN, which is used in a limited number of places outside the U.S.
Verizon Wireless, which is jointly owned by Verizon Communications and the world's largest wireless operator Vodafone, has roaming agreements with more than 40 countries for its CDMA service and more than 220 countries that use GSM. Verizon subscribers can use their CDMA handsets to roam in China and Taiwan, Guam, Guatemala, Indonesia, Vietnam, Israel, India, New Zealand, Thailand, Mexico, South Korea, much of South America, and a few Caribbean islands. A software upgrade may be required for some countries. Coverage is available on some cruise ships as well.
Sprint CDMA subscribers can roam in 26 countries and four U.S. territories. And the company has agreements with carriers in more than 100 countries to offer service for a CDMA/GSM phone. The iDEN network only offers services in 11 countries and one U.S. territory. A Sprint CDMA phone should work in most of Central and South America and the Caribbean along with New Zealand, Indonesia, China and Taiwan, South Korea, India, Israel, Thailand, and a few U.S. territories.
As for Nextel users, iDEN roaming is limited to Canada, Chile, Mexico, Argentina, Jordan, Peru, Brazil, the Philippines, Singapore, South Korea, and Israel. Nextel also offers a dual mode iDEN/GSM phone called the Motorola i930, which can be used for voice calling in about 100 countries.
The bottom line is that the devices used on AT&T's and T-Mobile's networks are more likely to work in more countries around the world than devices used on Verizon Wireless or Sprint's networks.
Does this mean that any GSM phone from AT&T or T-Mobile will work in Europe or a GSM network in Asia?
Not necessarily. GSM carriers may be the best choice for globe-trotters, especially those traveling in Europe, but not every GSM phone works in every country. The reason is that different regions of the world use different frequency bands to transmit GSM signals.
In the U.S., GSM operators only use the 850 MHz and 1900 MHz frequency bands. In Europe they use the 900 MHz and 1800 MHz frequency bands. Japan and South Korea use the 2100 MHz band. So to make sure you're covered in most regions, you should either get a triband (GSM 900/1800/1900) or quadband (GSM 850/900/1800/1900) phone.
Travelers in Japan and South Korea will likely need a new phone, since wireless operators in Japan and South Korea do not use GSM. That said, carriers in Japan and South Korea are using the same 3G standard that GSM carriers are using, which means that phones supporting a technology called UMTS or Universal Mobile Telecommunications System using the 2100 MHz spectrum band will also work in Japan and South Korea.
If you don't have a phone that supports this technology, you can rent one from your service provider or buy a prepaid phone once you get there. In Japan, users are required to register with the carrier to activate a prepaid phone.
Do Verizon Wireless and Sprint have any "world phones" that can be used in countries where GSM is the predominant cell phone technology used?
Yes they do. Verizon offers a few "world phones" that have both CDMA and GSM radios built in. These include, the BlackBerry 8830 World Edition, BlackBerry Storm, and the Samsung Renown.
Verizon also offers a special program for travelers who don't have a GSM/CDMA Verizon handset and who are traveling abroad to a country that does not use CDMA. This program, called Global Travel Program, is offered to current Verizon Wireless subscribers without a daily rental fee or security deposit.
The program is designed for customers traveling on short trips that last less than 21 days. Customers can call 800-711-8300 to speak with a Global Services Activation specialist to request a global phone.
Subscribers will get to use their existing phone number and voice mail. And contact lists can be transferred to the global phone. A nominal shipping fee applies. And customers must either sign up for special international rate plans or pay regular international rates, depending on which country they're visiting.
Sprint also has a few world phones, such as the BlackBerry 8830 World Edition, the Samsung IP-830w, and the HTC Touch Diamond.
Do I need to call my carrier before I leave to activate international calling?
Yes, you should call your wireless provider to make sure your phone is ready to make and receive calls in a foreign country. You can also check with your carrier for the exact rates in the countries where you'll be traveling.
How much will it cost me to use my phone in another country?
This will depend on which carrier you have service with here in the States. Calls will be charged on a per-minute basis. For subscribers with U.S. cell phone service, domestic voice, text message or data plans do not apply when traveling in another country. SMS text messaging is typically the cheapest way to communicate with people in the country where you're traveling and also with your family and friends back home in the U.S.
Here's a summary of what you can expect from the four major nationwide carriers in the U.S.
AT&T offers customers a World Traveler plan, which offers discounts on most roaming rates in more than 195 countries. The cost is $5.99 a month. And users can sign up for the service for just one month if they are going on a vacation, and they can cancel the service when they return home. But AT&T officials suggest that subscribers pay special attention to their billing cycle to make sure the plan is activated the entire time they are away. Some readers have also suggested keeping the plan active an extra month after you return home to make sure there has been plenty of time for the foreign carrier you were using to send the appropriate billing information to your home carrier.
Without a service plan, AT&T charges per-minute roaming rates that vary between 59 cents per minute and $3.99 per minute, depending on the country and roaming carrier used. It costs 50 cents to send a text message and receive text messages in a foreign country, but receiving text messages from someone in the U.S. is free. Sending multimedia messages is $1.30 per message, and receiving MMS messages from the U.S. is free. For more information check out AT&T's international roaming web page.
T-Mobile USA doesn't offer a special traveler plan. So the company charges per-minute roaming rates. These charges range from 49 cents to $3.99 per minute, based on where you're traveling. Text messages cost 35 cents per message to send. Incoming messages pull from your feature bucket or are billed at 15 cents each. For more information check out T-Mobile's international roaming information page on its Web site.
Verizon Wireless offers a global travelers plan that offers discounted rates on voice calls in over 150 countries for $4.99 per month. Regular voice charges range from 69 cents to $2.99 per minute for roaming calls. And it costs 50 cents to send a text message and 5 cents to receive a message. For more information about Verizon Wireless's international roaming fees and services go to this website.
Sprint Nextel offers a $2.99 a month plan to let people traveling to Canada pay only 20 cents per minute for calls. Roaming charges vary between 59 cents to $4.99 per minute for Sprint phones. Text messaging and multimedia messaging are billed as data services. Nextel customers can sign up for a Direct Connect plan that allows them to talk to other Nextel Direct Connect customers in Canada, Mexico, Argentina, Brazil, Chile, and Peru. For more information on Sprint Nextel's international roaming check out this Web page.
What about data charges?
Travelers need to be especially careful of data charges. The rates for data are far more expensive than for roaming voice calls and text messages.
AT&T offers its smartphone customers that have an iPhone, BlackBerry or Windows Mobile device a special data plan to help keep costs down. The cheapest plan offers 20MB of data in 65 countries for $24.99 per month. The 50MB package is $59.99 per month, 100MB package is $119.99 per month, and the 200MB package is $199.99 per month.
Without a plan, users are charged 2 cents per kilobyte. If you're traveling in a country that is not one of the 65 supported in the international data plan, then standard data roaming rates apply.
AT&T officials say that subscribers need to pay special attention to their billing cycle when signing up for an international data plan. If a customer signs up a couple of weeks into the billing cycle right before a trip, the cost of the service will be prorated and so will the total amount of megabytes available. Customers should ask the customer service agent who is signing them up for the plan to back-date their plan to make sure they are getting the full bucket of data while they are traveling on their trip. The monthly plan can be canceled without a hassle the following month.
T-Mobile USA charges $10 per megabyte in Canada and $15.36 per megabyte everywhere else in the world.
Verizon Wireless offers a few options for getting e-mail and surfing the Web while on a international trip. Verizon Wireless subscribers using either the Samsung Sagas, BlackBerry Storm, or BlackBerry 8830 World Edition phones can get corporate and personal e-mail while traveling abroad with a service called GlobalEmail. The service, which provides voice service in more than 215 countries and data coverage in more than 175 destinations, costs $64.99 a month for e-mail access coupled with a voice plan. And the service costs $69.99 a month for access to data only.
Verizon Wireless also offers the XU870 Global ExpressCard,which fits into laptops to provide wireless data service in more than 175 destinations. And it can provide 3G coverage in over 40 countries. Customers can choose from monthly or pay per use plans. The GlobalAccess Monthly plan starts at $129.99 per month for 200 megabytes of data in over 30 countries. After that limit, users are charged $0.005 per kilobyte. The plan also allows for 5 gigabytes of data use in the U.S. and Canada with overages charged at $0.05 per MB. For $219.99 a month, subscribers can get up to 200 MB worth of data with the same rates for overage as the $129.99 plan.
For subscribers who don't need a monthly plan, Verizon also offers a GlobalAccess Pay Per Use plan. The service, which must be purchased with a $59.99 mobile broadband service plan in the U.S., offers discounted rates of $0.002 per KB in Canada, $0.005 per KB in Mexico, and $0.02 per KB in more than 175 other destinations.
Sprint Nextel's rates for data vary depending on the country you're traveling in.
I've heard horror stories about iPhone users who have had outrageously high phone bills after their trips abroad. Why does this happen? The iPhone was made for data, and as a result it can cause some problems for international travelers, because data rates are typically much higher than voice rates.
For example, the iPhone's visual voice mail works over the data network. So when iPhone subscribers receive a voice mail while traveling and their phone is on, that voice mail message will be charged a data rate, regardless of whether that iPhone subscriber checked his voice mail. If iPhone users are having their e-mail pushed to them all the time, this can also jack up the price of their service.
And streaming video of any kind over the cellular network will rack up data charges very quickly regardless of whether you're on a smartphone or using a 3G data card.
What can I do to make sure this isn't a problem for me?
Here are some suggestions from AT&T sprinkled with a couple of suggestions of my own.
• Turn data roaming "OFF": Be sure to download and install the latest version of iPhone software from iTunes. By default, this setting for international data roaming will be in the "OFF" position. To turn data roaming "ON/OFF" tap on Settings>General>Network>Data Roaming
• Utilize Wi-Fi instead of 3G/GPRS/EDGE: Wi-Fi is available in many international airports, hotels, and restaurants to browse the Web or check e-mail. You can even use voice over IP services, such as Skype to make phone calls.
• Turn fetch new data "OFF": Check e-mail and sync contacts and calendars manually instead of having the data pushed to your iPhone automatically. This way you can control the flow of data coming to your iPhone. To turn off the Auto-Check functionality tap on Settings>Fetch New Data, change Push to "OFF" and Select to Fetch Manually
• Consider purchasing an international data package: Purchasing an international data package can significantly reduce the cost of using data abroad. AT&T now offers four discount international data packages.
• Reset the usage tracker to zero: When you arrive overseas access the usage tracker in the general settings menu and select reset statistics. This will enable you to track your estimated data usage. To reset Usage Tracker to Zero tap on Settings>General>Usage>Reset
• Do not download video on your iPhone or laptop while traveling. This will help you avoid some of the most expensive data charges. If you want to stream a movie, music video, or TV show on your phone, go to a Wi-Fi hot spot and download movies over that network.
Are these huge data charges a problem for other smartphone users like BlackBerry users or phones running Windows Mobile?
Neither the BlackBerry nor Windows Mobile phones use visual voice mail, so that is not a concern on these devices. But streaming video on these devices could also rack up some hefty data charges as well. So be careful.
As for downloading e-mail or receiving pushed e-mail, Windows Mobile users should also be careful. These phones also allow users to turn off the push e-mail function. But BlackBerry users don't have to worry as much, because Research In Motion, the maker of the BlackBerry, has developed a very efficient way of delivering e-mail to end users that doesn't eat up a lot of bandwidth.
Are there any other options that may be cheaper than using my U.S. carrier's service?
Yes, you can use an unlocked GSM handset when you're traveling abroad. Simply put in a SIM card from a local carrier to make inexpensive local phone calls while you're in-country as well as cheap texting to other cell phones also in the same country in which you're traveling.
How do I get an unlocked phone?
You can buy unlocked phones from some retailers and on various Web sites, such as Amazon or eBay. But if you are an AT&T or T-Mobile USA customer, you can also unlock the phone you have. Simply call your provider's customer support number. (This applies to most GSM phones except the iPhone, which AT&T will not provide an unlock code for.)
Give them the model number of your phone, and they will send you a special code that you will use to unlock your phone when you put in the new SIM card. Once your phone is unlocked, it's unlocked for good and can be used on future trips. Make sure to call your wireless operator well in advance.
Sometimes it can take as long as a week for customer support to send an unlock code. Again, make sure that your phone is a tri-band or quad-band phone that will operate in the frequencies used in the country you're visiting. Japan and South Korea will require special handsets.
What if I am a Verizon Wireless or Sprint Nextel customer? Can I unlock these phones and use a local SIM card?
If you have a CDMA-only or iDEN phone, the answer is no. These devices don't use SIM cards, and they do not operate on a GSM network. But if you have a world phone from Verizon or Sprint that also has a GSM radio, these can also be unlocked. Call your carrier and tell them you need the unlock code and they should send it to you.
What are the drawbacks to using a local SIM card?
Well, the most obvious drawback is that you have to find a store that sells local SIM cards once you get to your destination. Local mobile carrier retail locations will sell SIM cards. But some local grocery stores or convenience stores may only sell cards to "top up" the minutes on your phone. The second drawback is that you will be assigned a new local phone number. So this means that friends and family calling you from the U.S. will have to make an international call to reach you. This also means that international calling rates apply to you as well if you call from the country where you're traveling to the U.S.
Also some features may not be available on your phone, such as voice mail, call-waiting, e-mail and Web surfing. And you will not be able to receive calls, voice mails, text messages, or e-mails sent to your U.S. phone number while using another carrier's SIM card.
That said, using a local SIM can save you money, especially if you are using it to make local calls. Texting is usually the cheapest method of communication. And SIM cards can be saved and used again if you travel to the same country again.
E-mail to a friend

© 2009 CBS Interactive Inc. All rights reserved. CNET, CNET.com and the CNET logo are registered trademarks of CBS Interactive Inc. Used by permission.