By Alison Harding
CNN





RAPPAHANNOCK COUNTY, Virginia (CNN) -- Michelle Obama is not the only one looking to feed her family freshly picked produce.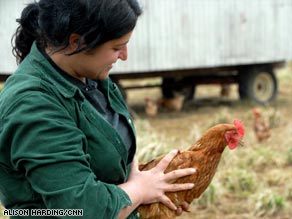 Emily Cook holds a chicken at Sunnyside Farms in Rappahannock County, Virginia.
Just a few blocks away from Pennsylvania Avenue, nestled between the National Archives and the Portrait Gallery, a small farmers market offers city dwellers an abundance of locally grown produce, homemade pastries, jams and other handcrafted goods.
The Penn Quarter Market is one of eight markets in the Fresh Farm Markets family, a D.C.-area non-profit that supports local farmers in an effort to provide urban populations with fresh-from-the-farm products. It also is part of a growing movement of people turning against industrial farming practices.
On a cloudy market day in early April, Michael Clune's stand overflowed with radishes, colorful chard, lettuce, flowers, free-range eggs and fresh herbs -- all of which he and his coworkers harvested the day before at The Farm at Sunnyside in Rappahannock County, Virginia, where Clune is the director of farm operations. The Farm at Sunnyside is just 70 miles outside of Washington.


Watch a slideshow of growers explaining The Farm at Sunnyside philosophy »
Clune, like many of his fellow farmers at the market that day, is a proponent of the so-called "localvore" movement. He advocates that buying locally grown, seasonally available food is both healthier and environmentally safer than industrially grown food, which may have been produced using harmful pesticides and shipped from across the country.

Watch food both on the farm and at the market »
Planet in Peril: Battle Lines
Anderson Cooper & Dr. Sanjay Gupta take you to the frontlines of the ultimate battle over our natural resources.
Sat & Sun, 11 p.m. ET

"You can tell that it's exceptionally fresh, and I can tell my customers exactly where it came from, when it was planted ... how it got here," he said.
According to Nick Lapham, owner of The Farm at Sunnyside, buying locally also creates a direct relationship between growers and consumers. This not only gives customers peace of mind, but also holds farmers more accountable.
"We're responsible for what they're eating. We know their families and we develop a direct connection and a direct relationship with them," he said.
With serious food-related health scares on the rise -- there have been two major salmonella outbreaks this year alone -- such accountability is a welcome improvement to our nation's food system.
And advocates argue that food safety is just one of many benefits to buying locally.
Don't Miss
According to Jennifer Fahy, communications director of Farm Aid, fresh produce is tastier and has more nutrients than food that has been picked early and stored for long periods of time. Farm Aid is a national organization that provides grants to family farms in order to support a locally based agricultural system.
Fahy also offered numerous environmental reasons to support local agriculture.
Buying locally helps to support local farmers who are more likely to be "stewards of their land," she said. Local growers also have more flexibility than industrial farmers to experiment with different crop varieties, which encourages biodiversity and extends growing seasons.
According to Ann Yonkers, co-founder of Fresh Farm Markets, buying directly from farmers also supports local economies because when you pay a local farmer, the money goes directly into that farmer's pocket. He or she will then turn around and spend that money in the same community.
Both Yonkers and Fahy agree that concerns about our nation's health, economy and the environment have helped to propel the localvore movement in recent years, with more and more people turning to local farms and farmers markets as a viable alternative to the grocery store.
Despite such growing public enthusiasm, however, there are a still a number of challenges to the movement.
According to Fahy, federal food and safety regulations are catered to an industrial farm system, and are often expensive and unfriendly toward smaller farm operations.
The recent food scares have also led to tightening food safety regulations, limiting what can and can't be sold on and off the farm, and how producers have to package their food -- a restriction that is especially challenging at an open-air farmers market, Fahy said. And, while giant corporations can absorb the extra costs, small farms suffer tremendously from the added financial burdens, she added.
"We want food to be safe, but we've got to make food safety regulations work for both the consumer and the farmers so they can afford to sell it," Fahy said.
Perhaps the biggest obstacle to the buy-local movement, said Yonkers, is our nation's deep reliance on an industrial agricultural system, and a population accustomed to having all types of food available at all times, no matter what the season.
Yonkers would like to see a return to a time when "farmers feed their neighbors, and people change their diets based on what is in season and abundant."
But critics question the sustainability of such a system, arguing that small farms simply cannot meet our nation's food demands efficiently.
Even Nick Lapham concedes that farms like his are not equipped to produce our entire food supply, yet.
Nonetheless, he believes that "there's a much greater role that can be played by smaller [farms]. ...That slice of American agriculture is fundamental and really needs to continue to be emphasized and grown as a part of the entire food production and consumption system in the country."

Fahy agrees.
"You're not going to be able to buy everything you want to eat from your immediate community. People will always want things like coffee and chocolate, but [generally] buying local just makes sense," she said.
E-mail to a friend

All About Nature and the Environment • Agriculture Policy • Washington, DC