By Chris Pirillo





SEATTLE (CNN) -- From the halls of Congress to college dorms and the boardrooms of bankrupt companies, there's been a lot of buzz lately about the social media site called Twitter.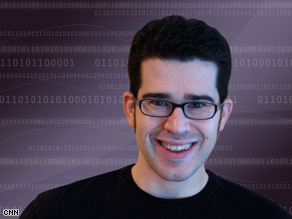 A self-admitted tech geek, Chris Pirillo is president of Lockergnome.com, a blogging network.
I figured it might be timely to throw some handy Twitter tools out there so you can get maximum benefit from this microblogging phenomenon, at least until the next big thing comes along.
Please tweet responsibly!
Oh, and feel free to follow me on Twitter (assuming you're already following CNN Breaking News on the site)
1. Twitalyzer: Want to know how you rank among others in the Twitosphere based on influence, signal-to-noise ratio, generosity, velocity and clout? Go here and type in your Twitter user name, and the Twitalyzer will let you know.
Higher scores mean you're winning!
2. Twitoria: Believe it or not, some people don't use Twitter every single day. Some people don't even use Twitter every single month. If this bugs you for some weird reason, Twitoria "finds your friends that haven't tweeted in a long time so you can give them the boot!" That'll teach them, I guess.
3. Monitter: Sometimes people you're not following on Twitter will tweet about things you'd find fascinating, if only you knew they existed. Monitter allows you to type in up to three keywords and then monitor feeds that mention them. Want to find people within a 10-mile radius who are also into vintage teapot collecting? You can filter results by proximity to your location.
4. Filttr: Sometimes people you follow on Twitter will tweet about things that don't interest you in the slightest (like vintage teapot collecting). Filttr helps you get rid of superfluous chirping and focus on only what you find important based on key phrases, groups and priorities.
5. Twtvite: Every now and then, it's healthy to have real conversations with real people that can't be done in 140 characters or less. It's completely okay to peel yourself away from your computer and meet up with fellow, local tweeples in a place designated via twtvite. Find tweetups or make your own; twtvite details are still contained within 140 characters or less, so you don't get completely disoriented. I've done plenty of Seattle-area tweetups and have found this to be the best tool for coordinating.
6. FutureTweets: Some people just don't get the spontaneous spirit of Twitter, so they'll find a need to schedule their tweets ahead of time. FutureTweets allows them to do so. Wannabe criminals be warned, however: Your "I'm enjoying peanut brittle and watching 'Three's Company' reruns with my cat" tweet that posts when you're robbing the corner liquor store probably won't hold up as an alibi in court.
7. Twitturly: Twitturly tracks Web addresses that are being thrown around the Twitterverse by popularity. Comedy Central's 'Daily Show' is on top of the list at the time of this writing.
Their feed says: "Sam Bee says Twitter has become such a big deal among legislators and the media elite because it's awesome."
8. Twitscoop: Every 20 seconds, Twitscoop will refresh the results of your keyword or user name search and let you know what everyone on Twitter is saying about it or him/her. This can be a great way to watch what's happening at a conference (like Gnomedex) or a local event or emergency -- in nearly real time.
9. TwitterSnooze: Once in a while, you'll find that someone you're following has gotten overzealous and none of the other people you're following can get a tweet in edgewise. Whether this stream domination has been by design or by accident, maybe you don't want to de-friend this chatterbox, but you need a temporary respite (maybe a day or two) from your friend until he or she can simmer the heck down. TwitterSnooze will filter out that user's tweets for a range of days (from one to 30) that you determine.
10. If you're keeping count, that was only nine tips. For the 10th, I need you to recommend YOUR favorite Twitter tool in the comments, or simply tweet it from your own Twitter account -- and make sure you address it publicly to @chrispirillo.
E-mail to a friend