By Lisa Respers France
CNN





(CNN) -- The blog "Stuff White People Like" is wildly popular with fans who've embraced the hilarious, satirical sendup of the white middle class that -- according to the list -- have an ongoing love affair with things such as coffee (No. 1), organic food (No. 6), yoga (15) and the Toyota Prius (60).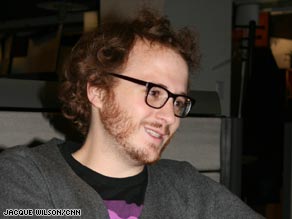 Blogger-turned-author Christian Lander is the force behind "Stuff White People Like."
The site also has spurred an outpouring from those who view it as offensive and racist.
Now devotees and detractors alike have more to discuss with the release of the book "Stuff White People Like: A Definitive Guide to the Unique Taste of Millions" by the blog's creator, Christian Lander.
Filled with photos and some content from the blog, the guide includes new entries exclusive to the book.
Lander also worked with a designer to create things such as flow charts on "How to Name a White Child" and "White Career Trajectories" as well as a test of the reader's "whiteness."
As befitting the genius behind such a site and book, Lander is a bit of a ham (actually, make that Canadian bacon since he hails from Toronto, Ontario).

Watch Lander talk about what he likes »
The origins of "Stuff" date from January 2008, he said, because of an instant messenger conversation between him and his friend Miles about the HBO drama "The Wire." Miles, who is Filipino, tossed off that he didn't trust any white person who didn't watch the series.
That exchange started a back-and-forth between the two about what white people were doing instead of watching the show.
"We said, 'Oh, they are going to plays, they're doing yoga, they're getting divorced,' " recalled Lander, who couldn't pass up the gold mine of ideas and started blogging. "The goal was to literally make Miles and a few of my friends laugh, and it just took off."
Within six weeks, Random House came calling, and a book deal was finalized.
CNN talked to the blogger-turned-author about his "whiteness," whether he is like Stephen Colbert but instead mocks earnest, left-wing types, and why "Stuff White People Like" will never make the list of "Stuff White People Like."
CNN: Where do you get your ideas?
Christian Lander: Farmers' markets.
CNN: How do you get your ideas at farmers' markets?
Lander: Keeping my eyes open. I just see what people are up to. And the mirror is another good place to look for inspiration. I really make fun of myself.
CNN: So what makes you an authority on white people?
Lander: Look at me [laughing]. I mean, I have liberal arts degrees; I look like this. I'm on the inside.
CNN: Do you ever worry about offending people?
Lander: No. I'm glad when I offend people with this because it's not offensive. What's been great about it is the title draws people in, and right away they are like, "What is this? Am I going to get offended by this?" Then they read it, and it's not what they expect. People see the title and they expect "Stuff White People Like" to be entries like mayonnaise, or dancing poorly, these old stereotypes that are really outdated and aren't even funny anymore.
You're sort of expecting it to be the lame white guy stuff and you go, "Oh my God, this is all the stuff I actually like." It's playing off white stereotypes, but it's not stereotypes in a demeaning way.
CNN: If those are old stereotypes, could your stuff be considered "new stereotypes"?
Lander: No, because they're true [laughing]. I consider these valid observations. It's an update on this idea of a yuppie. In the '80s, the idea of the yuppie was really about just consumerism: I have an expensive BMW, I have these things, and it's buying, buying, buying. I think that that attitude is still there, but the materials changed into where it's "My carbon footprint's lower, my music taste is better, I visited more countries than you." The quest for status is still there.
CNN: What are some of the entries that elicited the most negative responses and really pushed people's buttons?
Lander: One was written by Miles. Now Miles is Asian, and I can't stress that enough. He wrote post No. 11, which is "White People Like Asian Girls." That has been by far the most commented on. The other ones have all been pretty level in terms of drawing responses from people.
CNN: What are some of the things that have been rejected from the list?
Lander: People send in stuff all the time, and one of the things is that people just don't get what I am going for here. They send in [suggestions such as] guns, NASCAR, trailer parks -- these old stereotypes that are not what I'm after. The one I reject a lot is people say, "Well, you know what, 'Stuff White People Like' should be on the list of 'Stuff White People Like.' " I'm just like, "All right, postmodern hero, you're not the first person to send this in. I'm not putting it on the list."
CNN: Entry No. 92 is book deals, so we are assuming you like that one. What are some other things on the list you like?
Lander: There are things that I like that I am ashamed that I like. My favorite entry, which I wrote and where I attack myself the most, is "Knowing What's Best for Poor People." That was one that definitely applies to me, and I sort of recognize the ego that's behind that one and how ridiculous that one is.
CNN: What's some stuff white people don't like?
Lander: Other white people. That's it. The wrong kind of white people.
CNN: Who are the wrong kind of white people?
Lander: Anyone you blame for everything that's wrong in America are the wrong kind of white people. Not only do they hate them because they create all of these problems, but if those kinds of people start liking anything on this list, they immediately become unacceptable.
CNN: Stephen Colbert made the list, and he's renowned for making fun of the right wing. Do you consider yourself a type of Stephen Colbert for the lefties?

Lander: I don't know because Stephen Colbert, in his heart of hearts, is a lefty and so am I. I consider myself a self-aware, left-wing person who's not afraid to recognize the selfishness and contradictions that come on the left. I think a lot of people who are on that side really fail to do that a lot of the time.
I think the people I write about here are very, very self-righteous and believe that everything they do is right, and they are very resistant to cast a critical eye to themselves. It was really fun for me to write in a cathartic way, sort of like I am attacking my own pretentiousness and my own ridiculousness. It's just amazing because these people are so self-aware but so unaware at the same time.
E-mail to a friend

All About Blogs and Blogging