By Alan Duke
CNN





LOS ANGELES, California (CNN) -- After starting with 16 nominations, "Mad Men" won just three Emmy Awards at the 61st Primetime Emmy Awards on Sunday night -- but one of them was the big one, best drama series.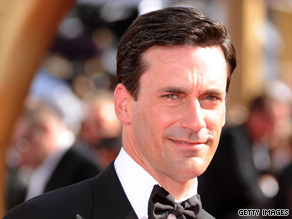 "Mad Men's" Jon Hamm was again on the winning team, as his show took home the Emmy for best drama series.
The AMC show about ad agency executives in early 1960s Manhattan often competed against itself, particularly in the category of episode writing, where it had four of the five possible nominations.
"Mad Men" also won best drama last year.
"30 Rock" won best comedy at Sunday's awards. The show won five Emmys overall.

Watch highlights from the show »
"We want to thank our friends at NBC ... for keeping us on the air, even though we are so much more expensive than a talk show," said star Tina Fey in accepting the honor. Gallery: Major Emmy winners
Glenn Close won best actress in a drama for her performance in "Damages," but she turned her speech into praise for her colleagues.
"I want to salute what I call my 'category sisters,' " she said. "I respect you, and I'm inspired by your talent." She also paid tribute to the show's writers.

See the stars arrive on the red carpet »
Bryan Cranston of AMC's "Breaking Bad" won his second straight Emmy as best actor in a drama.
"I don't know what I'm doing up here," he said. "I feel like Cinderfella. ... I stand here a humbled man."
Alec Baldwin won best actor in a comedy series for his performance in "30 Rock."
Toni Collette ("The United States of Tara") won best actress in a comedy. Collette's win was a mild surprise, as Tina Fey, of "30 Rock," was considered a heavy favorite.
Don't Miss
Jon Cryer ("Two and a Half Men") won best supporting actor in a comedy.
"I used to think that awards were just shallow tokens of momentary popularity, but now I realize they are the only true measure of a person's real worth as a human being," Cryer said.
Cherry Jones ("24"), Michael Emerson ("Lost") and Kristin Chenoweth ("Pushing Daisies") also won for their supporting work -- Jones and Emerson in dramas, and Chenoweth in a comedy.
"The Daily Show With Jon Stewart" was honored twice, for its writing in the variety, musical and comedy series category and as the best overall show in that genre.
"The Amazing Race" continued its domination of best reality competition series, winning the category for the seventh straight year.

Watch the stars show off their beautiful outfits »
"Race" producer Bertram Van Munster kept his on-stage speech short, but backstage -- with at least a dozen co-workers behind him holding Emmy statuettes -- he had more to say. Blog: Behind the scenes at the Emmys
"Survivor," "Big Brother" and his show "were really the locomotives for network television to make good reality shows. I am proud we have set a very high standard in doing the right thing," he said.
Van Munster said he would work on the show "until I'm 100 years old. It's no problem. The audience will decide when it's over, if we don't get the ratings," he said.
"Survivor's" Jeff Probst took home the award for host of a reality competition.
PBS' "Little Dorrit" also surprised observers, taking home Emmys for best miniseries, as well as writing and direction among miniseries and movies -- categories expected to go to HBO programs such as "Grey Gardens" or "Into the Storm." The miniseries topped all programs with seven Emmys.
"Grey Gardens" did win the made-for-television movie category, and five Emmys total. iReport.com: Sound off on Emmy winners, losers
The Emmy broadcast featured plenty of absurdist humor, with presenters being introduced with mentions of obscure roles and show announcer John Hodgman, best known as "PC" from the Apple Mac ads, welcoming some winners with non sequiturs.
It also had its share of gallows humor, reflecting the decline in network viewership -- and the decline in Emmy Awards viewership as well.
Host Neil Patrick Harris, in a rousing opening number and routine called "Don't Touch That Remote," practically begged viewers to hang around. Mentioning several other networks and competing programs, he plaintively asked, "Can't you watch it later?"
Chenoweth won the first Emmy of the evening for a show, "Pushing Daisies," that's no longer on the air. "Pushing Daisies" won four honors total.
"I'm unemployed now, so I'd like to be on 'Mad Men,' " she said. "I also like 'The Office' and '24.' "

Perhaps presenters Julia Louis-Dreyfus and Amy Poehler summed up the mood best. Introducing a category early in the show, Louis-Dreyfus pulled no punches.
"Amy and I are honored to be presenting on the last official year of network broadcast television," she said.

E-mail to a friend

All About Emmy Awards • Neil Patrick Harris • Mad Men (TV Show) • 30 Rock