By Jack Hannah
CNN





LOS ANGELES, California (CNN) -- Allison Iraheta's "American Idol" run ended Wednesday, but the 17-year-old says she's proud that she was the last girl standing in the competition.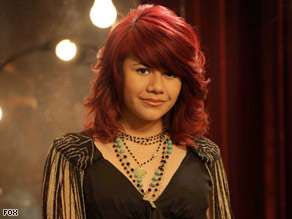 Allison Iraheta says the atmosphere among the contestants is "like a family."
Iraheta was eliminated from "Idol" this week after receiving the fewest amount of viewer votes, trimming the contestant pool to three: Danny Gokey, Kris Allen and Adam Lambert.
The Los Angeles native was the lone female on the Fox program for two weeks after Lil Rounds got the boot April 22, but she says there was nothing but love between her and the guys.
"People thought we'd be head-to-head the whole time and just fighting," Iraheta said Friday. "We were just really like a family."
"It got to a point where we could just mess with each other and help each other out."

Watch former "Idol" contestants Megan and Scott joke around »
Iraheta would not take a guess as to who she thinks will wear the "American Idol" crown at the show's finale this month but did say she had a blast singing with fellow rocker Adam Lambert during their performance Wednesday of Foghat's "Slow Ride."
"That was, I have to say, on of the funnest moments I've had on the show," Iraheta recalled. "Offstage, me and him are really close. He's like my older brother."
The teenager also said she and Lambert may reprise the song during the "American Idol Top 10 Tour" when it kicks off this summer.

Iraheta says she began singing in Spanish as a child and then moved into hip-hop music and finally settled into rock. She has "stuck with" the genre and cites a previous "American Idol" winner, who is also known for her rock style, as an inspiration.
"I definitely have to say Kelly Clarkson ... opened the door for all of us," Iraheta said of the very first "Idol" winner. "She has been a definite inspiration to all of us and definitely to me."
E-mail to a friend

All About American Idol • Music