From Jack Hannah
CNN





(CNN) -- After his appearance on ABC's "Wife Swap," a reality television show in which wives from two different families switch places for two weeks, Stephen Fowler seems to have become the most hated man in America.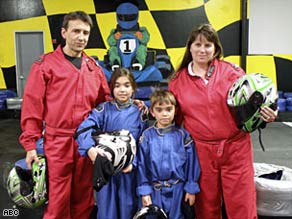 Stephen Fowler, left, with his children and Gayla Long, right, on ABC's "Wife Swap."
The wealthy, British-born environmental entrepreneur played husband to Gayla Long, a mother of four from a rural Missouri town and, during her stay, called her, among other things, "undereducated," a "dumb redneck" and made rude remarks about her weight.
Fowler's attitude on the show has made him television's newest reality show villain.
"The way he beat down on this woman on 'Wife Swap,' obviously it struck a chord with America," said the TV Guide Network's Chris Harrison. "You talk about your 15 minutes of fame. I don't think this is exactly what he probably wanted out of this, but, you know, hopefully he'll learn a little something about himself."

Watch the outcry Fowler has caused »
Shortly after the episode aired on January 30, Fowler allegedly received death threats. His remarks inspired a hate Web site, StephenFowlerSucks.com, a derisive entry on UrbanDictionary.com, and dozens of YouTube postings from the show as well as response videos from angry viewers.
Fowler later apologized. Writing on his wife Renee Stephens' blog, Fowler said he acted "like a complete jerk" and that he has since stepped down from the board of two non-profit organizations.
Asked for comment, ABC referred CNN to "Wife Swap's" production company, which did not respond. However, Fowler's wife, Renee Stephens, had publicly criticized his behavior on her blog.
"I did not know he had been aggressively cruel and insulting on so many levels," she wrote. "This has been impossible for me to comprehend."
Fowler is not alone in his infamy. In fact, he joins a long line of reality show bad guys, from "Survivor's" Richard Hatch, whose notorious arrogance led him to win the show's first season, to Puck from "The Real World," who was kicked off for his aggressive behavior toward his roommates. All are real-life characters who America simply loves to hate.
"The camera doesn't make you a better person, it doesn't even change the person that you are, it just magnifies who you are," said Harrison. "If you're a tool, you come off like a gigantic tool. ... This guy [is] probably your garden-variety tool. But you put him on 'Wife Swap' in front of America and he looks like the biggest ass in the history of mankind."
Omarosa Manigault-Stallworth, who was made out to be the villain on the first season of NBC's "The Apprentice," said she understood what Fowler must be going through.
"I can completely relate to his experience," she said. "I feel bad for him, because a lot of people get into that situation and receive a lot of criticism and don't know how to respond to it."
Omarosa -- famous enough to be recognized by her first name -- said Fowler's situation has a lot to do with the nature of reality television.
"When America looks at reality TV, they want entertainment," she said. "Once you enter the world of reality, and the cameras go off, unfortunately, America's expectation of you doesn't stop -- their expectation is for you to continue to entertain them."
In the six years since her appearance on "The Apprentice," Omarosa has made her mark on the television business, capitalizing on her persona on the show by appearing on several reality shows, including NBC's "Fear Factor" and VH1's "The Surreal Life."
"I think my longevity came from my work ethic. There is a ton of reality shows that I do, lots of work that I do, people are aware of how much work I do," she said.

Harrison said Fowler would do well to change.
"Hopefully this guy has realized his character flaw and he's going to change," he said. "Whether it's good or bad, depending on how the experience goes, I think you do learn a little about yourself and a lot of people change."
E-mail to a friend

CNN.com's Elham Khatami contributed to this article.