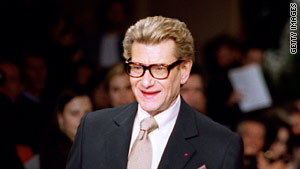 Late French fashion designer Yves Saint Laurent debuted at No. 1 on Forbes' list of high-grossing celebrity estates.
STORY HIGHLIGHTS
Yves Saint Laurent debuted at No. 1 with estate that earned $350 million
Michael Jackson was No. 3 with $90 million in earnings
Rodgers and Hammerstein earned $235 million in the past year; Elvis Presley $55 million
Marilyn Monroe and James Dean are list regulars who didn't make the $6 million cut
(CNN) -- Forbes magazine's ninth annual list of top-earning dead celebrities was unveiled Wednesday, and surprise, surprise: Neither Michael Jackson nor Elvis Presley held court at the top.
Late French fashion designer Yves Saint Laurent debuted in the No. 1 spot with an estate that earned $350 million in the year after his death from brain cancer in June 2008.
To place on this year's list, "delebs" -- industry speak for dead celebrities -- had to earn at least $6 million between October 1, 2008, and October 1, 2009.
Saint Laurent earned well past that. A February Christie's auction sold most of his possessions, including art, antiques and furniture, to the tune of $443 million over a three-day period. The monies were split between the Pierre Bergé-Yves Saint Laurent Foundation and an as-yet-unnamed philanthropic group created for scientific research and the fight against AIDS, according to Forbes.
Following Saint Laurent at No. 2 is legendary composing duo Richard Rodgers and Oscar Hammerstein, co-creators of such works as "Oklahoma," "South Pacific," The King and I" and "The Sound of Music." The bulk of their $235 million came in combined earnings from the sale of the Rodgers & Hammerstein Organization and the rights to the music they co-wrote.
Michael Jackson's estate earned $90 million in the four months after his death in June, which put the late King of Pop at No. 3. As a result of the media attention surrounding Jackson's death, 9 million of his albums were sold worldwide, in addition to more than 5.5 digital downloads, according to Forbes.
To top it off, Sony bought the rights to Jackson's "This Is It" documentary, a film using footage from Jackson's last days as he prepared for a 50-concert London tour, for $60 million, which was split between AEG (the company behind the tour) and Jackson's estate. Profits from the film will be split between Sony, AEG and the estate.
Presley, who normally leads the pack of deceased millionaires, was knocked down to the No. 4 spot this year. But here's some perspective: Although the late Presley's estate pulled in only $55 million from merchandising and Graceland admissions, he still earned more than some of the living, like Bon Jovi and Britney Spears. The New Jersey rock group earned $50 million in the 12-month time period, while Spears brought in $35 million.
Marilyn Monroe, James Dean and Steve McQueen -- all profitable delebs who are regulars on Forbes' list -- were knocked off this year with profits that didn't make the $6 million cutoff.
One of the reasons the top moneymakers were shuffled around is that both Saint Laurent and Rodgers and Hammerstein had very lucrative one-time events and aren't likely to earn enough to rise to the top next year, according to Forbes.
To compile the list, Forbes spoke with agents, lawyers and sources involved in the estates to calculate estimated earnings. The 13 dead celebrities on the list, which also included Michael Crichton's $9 million in earnings, grossed a combined $886 million in the past 12 months.
As Forbes Senior Editor Matthew Miller said, "The money may be drying up in Hollywood, but there's still plenty of cash being made in the graveyard. The earning power of dead celebrities is more powerful than ever before."
FOLLOW THIS TOPIC