By Shanon Cook
CNN





NEW YORK (CNN) -- Rhett Miller, the Old 97's frontman, can be hard to get a fix on.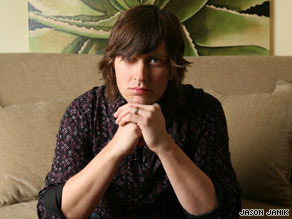 Old 97's frontman Rhett Miller says that his solo albums keep him from going nuts.
He's a rock 'n' roll musician, yet soft-spoken and mild-mannered. He's 38 years old, but looks 23. He once cut his hair really short in an attempt to make himself less attractive, but now wears his mane long and shaggy.
And then there are his Twitter entries, which have a wit all their own.
For example: "Sometimes, sitting in a hot tub, I pretend that I'm in the kitchen of some giant who's making Rhett soup. And I just start screaming."

Watch how Miller's kids react to his singing »
OK, maybe that's a little disturbing. But we are talking about a singer-songwriter whose imagination gets more than the average workout. Miller has been writing songs as the frontman for the alt-country band Old 97's for 16 years, and has also penned four solo albums.

Watch Miller play a song from his album »
In fact, the Old 97's -- which started as a bar band in Dallas, Texas -- has such an extensive catalogue that during a four-night run in Hoboken, New Jersey, in June, the band played original sets each night, with only the closing song repeated.
Miller talked to CNN about his new, self-titled solo album -- hailed by Rolling Stone magazine as his strongest yet -- and why playing in front of his kids isn't necessarily great for his ego. The following is an edited version of the interview.
CNN: Is it difficult being both a solo artist and the front man for Old 97's?
Rhett Miller: No. Without the solo career I wouldn't have an outlet for about half of my creative impulses and I'd go nuts.
CNN: Do you consider yourself more rock 'n' roll than alt-country these days?
Miller: Yeah. I love old-timey country and British pop and twee folk, but at heart I am a rock 'n' roller. Have you ever seen me bang my head?
CNN: I'm curious to know why you would release a self-titled album four albums into your solo career.
Rhett Miller: That is a weird thing, isn't it? I don't know ... the last two records, "The Instigator" and "The Believer," I felt like I was writing from a bit of a remove. ... [This record] feels very honest and soul-bearing and vulnerable and all those things that are scary. And so it made sense to make it "Rhett Miller."
And it's a fantastic name. It's worked really well for me so far.
CNN: It is a cool name. Is it real?
Miller: To an extent. My real name is Stewart Ransom Miller II. And my mom agreed to that name if I would be called Rhett. 'Cause all of the nicknames that come out of Stewart Ransom Miller II are not good.
CNN: What's wrong with Stu?
Miller: Stu, really? But then I'd be like meat stew.
CNN: You were really torn up over the death of your hero, author David Foster Wallace. Did that influence this album at all?
Miller: Yeah. Even though I think this record sounds very happy, there's some subtext of real despair on it.
We all go through tough times. I dealt with a few different personal things and it seems I know a lot of people who are going through divorces. The world is going through an incredible economic crisis. And then David Foster Wallace goes and kills himself. And yeah, I think it shows up on the record.
You probably have to listen to it a few times to really realize that that's happening and that's intentional ... because I don't really want people listening to the record crying.
CNN: You have two little kids. How has being a father changed your approach to music?
Miller: The weirdest thing about being a dad and still being a songwriter is the logistics of it. You know, finding a moment to write a song. The only thing I could figure out to do was sit in the middle of the madness, in the middle of the living room and with the chaos swirling all around me and just write a song there. They couldn't care less what I'm doing. Every once in a while they tell me to be quiet. Or they'll walk over and put their hands on the guitar strings and go "Daddy, shhh."
CNN: You've been called a heartthrob. Is that a blessing or a curse?
Miller: Ummm ... thank you, I guess, for the implied compliment.
It's been a weird thing. When I started I was a teenager and I was opening for punk rock bands and I'd get written about in the paper in Dallas as "pretty boy teen folkie" or "impish folkie." It was always this diminutive, reductive thing that happened and so I rebelled against that.
On the first Old 97's record -- maybe the first couple of records -- on the photos on the album you couldn't see me. Everybody else would be in focus and I would be blurry. I'd wear big civil engineer eye glasses, I got a buzz cut. I would intentionally try and make myself look as awful as I could. Fortunately I was still able to get girlfriends.
But then at a certain point I thought, "This is so stupid! Is this such a horrible thing?" And so I got a Jon Bon Jovi haircut and started wearing nicer clothes, got Lasik. I don't know man, if that's the worst problem I've got then it's a pretty good life.
CNN: Has Twitter made a big impact on the way musicians and fans relate?
Miller: I don't know about all musicians, but I definitely enjoy the succinctness of the format and the immediate connection to the fans.
CNN: What distinguishes an impressive tweet from an ordinary tweet?
Miller: Humor. Wait, did you ask what I look for in a lady?

CNN: If you weren't a musician, what might you be doing?
Miller: Definitely not stand-up comedy. Maybe co-hosting a show on a cable news network?
E-mail to a friend