By Roland Martin





(ESSENCE) -- ESSENCE.com correspondent Roland S. Martin talks with Marlon Jackson, brother of Michael Jackson and a member of the Jackson 5, about the death of his younger brother, the "King of Pop."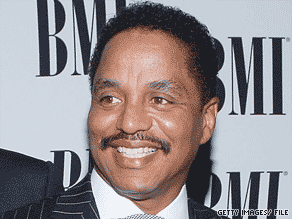 Marlon Jackson smiles for photographers at the 8th Annual BMI Urban Awards in September 2008.
Roland S. Martin: Marlon, how did you find out about Michael's death?
Marlon Jackson: I talked to Frank Dileo, Michael's manager. Frank told me that Michael last night was complaining about not feeling well.
Michael's doctor went over to see him, and Frank said, "Marlon, from last night to this morning, I don't know what happened."
When they got to him this morning, he wasn't breathing. They rushed him to the hospital and couldn't bring him around. That's what happened. They don't know what happened.
Martin: When was the last time you saw Michael?
Jackson: It was May 14 at a family gathering. I had just gotten back from Africa. Michael looked great. He was looking well. He was getting ready to go into rehearsals for his tour. I don't know what happened.
Martin: There were some reports he wasn't feeling well and was in a wheelchair.
Jackson: He wasn't in a wheelchair. He was walking around with his kids. When we saw him, he wasn't in a wheelchair. We all talked. He was doing great.
Martin: Was that the last time you spoke with him?
Jackson: May 14 was the last time I spoke with him. The last time I saw him.
Martin: Have you talked to any of your other family members about his death?
Jackson: I've been trying to get a hold of my mom. I talked to Jackie. I talked to Tito. They feel the same way. A piece of our heart -- a piece of us went with him. It was a shock to them, too. I talked to my brother Jackie and he said, "Marlon, is it true?" I said, "I'm calling them right now to see if it's true." That's when I called Frank Dileo and I couldn't get to my mom. I talked to him the first time and he was at the house and my mom was in the background crying, and she was just upset.
Martin: Was Michael still at the house?
Jackson: Michael had passed. Frank told me, "We lost him."
Martin: And you said a doctor saw him last night, but he didn't see a need to take him to the hospital?
Jackson: He didn't take him to the hospital. This morning he wasn't breathing and they rushed him to the hospital. He was going to be 51 in August. Gone too soon.
Martin: Marlon, it's amazing to look at the reaction from all over the world. People are at the hospital, at the Jackson family home in Gary, Indiana, at his star on the Walk of Fame. ESSENCE.com: Read Michael Jackson's obit
Jackson: I never knew the effect the Jackson 5 had on people until I began traveling with a major broadcasting network, and people would say our songs were the reason for them getting married. Me and my brothers did what we did because we loved it.
That's the way we thought. I'm happy that we did get a chance to just bring happiness to everybody, and Michael took it to another level to bring people happiness. He cared about people a lot.
Michael was known all over the world, and that's why people care, and it's nice to see that people care. Not only did they grow up with my brother, but they grew up with the Jackson 5. He's definitely going to be missed. We are always going to remember him. We cannot forget him. ESSENCE.com: Michael Jackson's life in photos
Martin: I hear the comparisons to Elvis Presley and people looking to him a generation later. I know it's very soon after the death of Michael, but should something like Graceland be established so the next generation is aware of Michael's impact?
Jackson: He's going to live on. He has left a legacy and it's going to be forever, and I really feel that in my heart. I want people to concentrate on those things that he did for people. He did a lot of positive things. He's going to live forever. I'm going to miss him. The memories, all the great things he has done, and my family is going to miss him. It's hard. It's really hard for us right now.

Martin: For the world he was the "King of Pop." But for you, he was your younger brother.
Jackson: And that's the way we saw him, as a younger brother. It's like when anyone else loses their family member. It hurts. It hurts right now. It really hurts
E-mail to a friend