By Alan Duke
CNN





(CNN) -- Blake Fielder-Civil is trying to kick his Amy Winehouse habit now that he's seen photos of the singer cavorting with another man in the Caribbean while he sits in a British jail.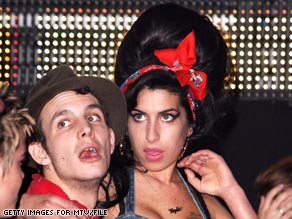 Blake Fielder-Civil and Amy Winehouse in happier times. The pair married in 2007.
Celebrity lawyer Henri Brandman confirmed to CNN that Fielder-Civil has asked him "to commence divorce proceedings on the grounds of Amy's adultery."
Winehouse was quoted by a London tabloid last week saying she was "off the drugs for good" and has a new man in her life, 21-year-old actor Josh Bowman.
"I've finally escaped from hell," Winehouse told the News of the World. "I'm in love again, and I don't need drugs. Look at me; I'm glowing!"
The tabloid also published pictures of Winehouse and Bowman in playful poses on a beach on the island of St. Lucia.
Grammy-award-winning singer Winehouse, 25, married Fielder-Civil, 26, in May 2007.
Since then, both have been arrested on drug charges together and separately.
"I don't know what's going on with us now, and for the time being I've just forgotten I'm even married," Winehouse told the tabloid.
"I'm just here on my own, happy and having a good time with Josh," she said. "I'll deal with Blake when I get back. But our whole marriage was based on doing drugs."
Fielder-Civil is currently jailed in England after a failed drug test in December.
Winehouse, 25, is well-known for her song "Rehab," which describes the singer's reluctance to enter a clinic. She won five Grammy awards last year -- three for "Rehab" as well as Album of the Year and Best New Artist.
Winehouse has battled drug addiction and spent about two weeks in a rehabilitation clinic last January.
Police started investigating her last year after obtaining a leaked home video that showed her smoking something in a glass pipe minutes after she was heard saying she had just taken six tablets of the anti-anxiety drug Valium.
The Sun, Britain's top daily tabloid, made the 19-minute video public. It said the video was shot in Winehouse's East London home. The Metropolitan Police investigated after receiving a copy of the video from The Sun.
She and her husband were arrested at a Norwegian hotel on marijuana possession in October 2007.
E-mail to a friend

All About Amy Winehouse