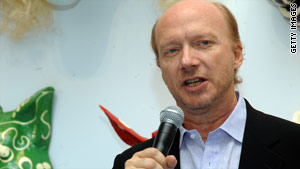 Director Paul Haggis has renounced his association with the Church of Scientology.
STORY HIGHLIGHTS
"Crash" director has left Church of Scientology after 35 years
Letter expresses anger over alleged support of Prop 8
Scientologist spokesman says church not anti-gay
Religion expert says loss of director is a "big deal"
(CNN) -- Acclaimed film director Paul Haggis's decision to leave the Church of Scientology shines a further public spotlight on the organization.
A letter addressed by Haggis to the church's spokesman, Tommy Davis, expresses anger at the Church of Scientology of San Diego's alleged public support of Proposition 8, which eliminated the right of same-sex couples to marry in California.
"I called and wrote and implored you, as the official spokesman of the church, to condemn their actions," said the letter, which was first published on a blog run by ex-Scientologist Mark Rathbun. "I told you I could not, in good conscience, be a member of an organization where gay-bashing was tolerated."
Haggis' publicist, Ziggy Kozlowski, confirmed to CNN that his client has left the church. Kozlowski said there would be no forthcoming statement from his client who he said is currently in Pennsylvania directing a film starring Russell Crowe and Liam Neeson.

Video: Church of Scientology convicted
The letter from Haggis says while he had not been an active member for many years, he found the principles he learned in the church to be helpful and continued to apply them in his daily life.
But Haggis wrote in the letter he decided to take action in the wake of what he viewed as Davis' lack of rebuke of the San Diego church.
"The church's refusal to denounce the actions of these bigots, hypocrites and homophobes is cowardly," the letter says. "I can think of no other word. Silence is consent, Tommy. I refuse to consent."
In an interview with CNN, Scientologist spokesman Davis said he understood that Haggis' letter was intended to be private. He said it was written by the director in August based on "whatever information [Haggis] happened to have at that time."
Davis said the local church in San Diego was incorrectly listed in some materials as supporting Prop 8 and that as soon as it was brought to his attention he had the church's name removed.
The Church of Scientology spokesman said his organization is "absolutely not anti-gay" and that its doors are open to everyone.
"As a church we don't take active stances on political issues," Davis said. "Being a minority, we are absolutely all for civil rights and the rights of any minority. We have a pretty complete understanding of what it is like to be persecuted or marginalized...being a minority religion ourselves."
Haggis, the writer of the Academy Award-winning "Million Dollar Baby" and co-writer and director of "Crash," had reportedly been a member of the Church of Scientology for more than 35 years.
Originally published in four parts, the letter outlines the writer's disappointment with the organization from whom he says he received a great deal of training and counseling during his 20s and 30s.
Founded by the late author L. Ron Hubbard, the Church of Scientology is well known for its high-profile, celebrity members, including actors Tom Cruise, John Travolta and Kirstie Alley.
Alex McFarland, president of Southern Evangelical Seminary in Charlotte, North Carolina, and an expert on world religions and cults, said Haggis' leaving the church is major.
"They have had a lot of very high-profile adherents, so for them to lose a high-profile devotee such as this, I think, is a big deal," McFarland said.
Church of Scientology spokesman Davis said that he had talked to Haggis about the issues raised in the letter.
"To the degree that any one has an upset with the church, we always try and resolve it with communication," Davis said. "I certainly had a tremendous amount of communication with Paul in resolving any issues."
Haggis is not the first in the industry to publicly break with the Church of Scientology. Actor Jason Beghe, who appeared in the film "G.I. Jane" and television shows "Everwood" and "Criminal Minds," reportedly also left the organization in 2008.
Beghe was reportedly a follower of high ranking and in 2005 appeared in Scientology promotional footage.
On Tuesday, a French court convicted the Church of Scientology and six of its leaders of organized fraud. The court imposed fines totaling more than one million dollars on the church and the convicted staff.
In Paris, church spokesman and official representative of the organization's Celebrity Center, Eric Roux called the decision a "modern Inquisition" and said the church would appeal the verdict.
Roux said Scientology is doing well in Europe and noted that a church opening in Rome, Italy, last weekend attracted 6,000 people.
CNN's Jack Hannah contributed to this story.