(CNN) -- A Swiss court has refused a request from director Roman Polanski to be released on bail pending an extradition battle, saying he poses a high flight risk, according to court documents.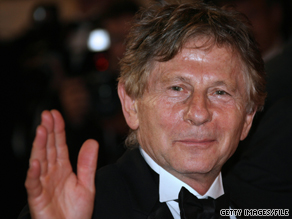 Director Roman Polanski fled the U.S. more than 30 years ago and was detained in Switzerland in September.
The Swiss Criminal Court said measures such as revoking Polanski's travel documents and requiring him to report daily to the police would not reduce the possibility that the director would flee.
The Academy Award-winning director was arrested in Switzerland last month on a U.S. arrest warrant stemming from a 1977 sex case. He is fighting extradition to the United States.
Polanski's Swiss lawyer, Lorenz Erni, had no immediate comment. His French lawyer, Herve Temime, did not return a call seeking comment.
Polanski has 10 days in which he may appeal the decision, said Folco Galli, the spokesman for the Swiss Justice Ministry.
The court said that as a citizen of both France and Poland, Polanski could obtain more travel documents if he were required to turn them over to Swiss authorities. It noted that border crossings from Switzerland are especially easy by both land and air, in part because of the European Schengen agreement that allows for visa-free travel between member countries, but also because Polanski has access to private jets or helicopters.
The filmmaker put up his home in the Swiss town of Gstaad as security for bail, the court documents showed, but the court decided that wasn't enough of a guarantee.
Polanski pleaded guilty in August 1977 to having unlawful sex with a 13-year-old girl five months earlier. He was 43 at the time, and is now 76.
Los Angeles, California, prosecutors dropped other charges in exchange for his guilty plea.
But Polanski fled the country before he was sentenced, after he learned the judge might not go along with the short jail term he expected to get from the plea agreement.
Polanski remained free -- mostly living in France -- before he was arrested in Switzerland on a 31-year-old arrest warrant. Los Angeles authorities said they sought his arrest when they learned he would be traveling to Switzerland for a film festival last month.
Polanski agreed to pay his sexual assault victim $500,000 to settle a damage claim she filed against him nearly 12 years after the crime, according to court papers released October 2.
Polanski still owed the money -- plus another $100,000 interest -- three years after the 1993 settlement, according to the documents.
The victim sought money for damages suffered when Polanski had sex with her. She claimed Polanski plied her with alcohol and quaaludes during a photo shoot at the Hollywood Hills home of actor Jack Nicholson.
It's not clear if Polanski ever completed paying the debt to the woman, although the court papers document efforts by her lawyers to garnish residuals and other payments owed to Polanski by the Screen Actors Guild, movie studios and other Hollywood businesses.
The victim came forward long ago and made her identity public -- saying she was disturbed by how the criminal case had been handled. Samantha Geimer, now 45, a married mother of three, called in January for the case to be tossed out.
Polanski's arrest has divided public opinion, even in Hollywood. Some high-profile filmmakers, such as Woody Allen, Martin Scorsese and Pedro Almodovar, have called for his release. Others, including actors Kirstie Alley and Paul Petersen, refuse to defend him.
Polanski won an Academy Award for Best Director in 2003 for "The Pianist." He was nominated for a best director Oscar for "Tess" and "Chinatown," and for best writing for "Rosemary's Baby," which he also directed.
E-mail to a friend

All About Roman Polanski • Movies • Sexual Offenses