By Alan Duke
CNN





LOS ANGELES, California (CNN) -- Ashton Kutcher -- Twitter's top tweeter -- warned he may pull the plug on his tweeting if the micro-blogging service partners on a reality TV show.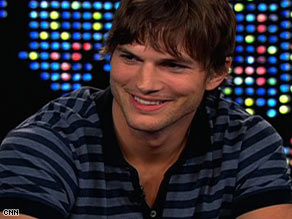 Ashton Kutcher said he might give up Twitter if the Web site's parent company participates in a reality show.
"It's all fun and games until somebody gets stalked," Kutcher wrote in a Twitter posting late Monday.
Variety magazine reported Monday that San Francisco-based Twitter.com had partnered with TV producers Reveille and Brillstein Entertainment on an unscripted show that would be "putting ordinary people on the trail of celebrities in a revolutionary competitive format."
Twitter co-founder Biz Stone said there was "no official Twitter TV show" in the works, but "we have a lightweight, non-exclusive, agreement with the producers which helps them move forward more freely."
Kutcher used Twitter to post a link to a news report about the partnership along with this message: "Wow I hope this isn't true. I really don't like being sold out. May have to take a twitter hiatus."
The actor, who boasts a record 2 million Twitter followers, frequently posts updates that take fans behind the scenes of his life and his current movie production -- "Five Killers."
"Five Killers" director Robert Luketic, who caught Kutcher's Twitter addiction, also suggested he would disappear from the Twitterverse.
"Ahh yeah. If this is true my shop is closed," Luketic tweeted in response to Kutcher's message.
Kutcher challenged CNN last month in a race to 1 million Twitter followers, which he won. His following has almost doubled that in the five weeks since.
His wife, actress Demi Moore, also threatened to shut down her Twitter account, which has more than 1 million followers.
"I hope this isn't true -- if it is, our Twitter time may come to a quick and sad end!" Moore tweeted Monday.
Don't Miss
Moore's willingness to let fans into her private life is illustrated by photos she posted last week showing her smile -- minus one front tooth. They were taken while she was undergoing dental surgery. Few stars in the past have allowed such images to be published, much less publishing them themselves.
She and Kutcher gained attention earlier this year when he posted a photo of his wife's rear -- minus pants.
As Twitter's popularity zoomed in recent months, more celebrities have joined -- some happily and others reluctantly.
While Kutcher has used Twitter as a direct way to communicate with fans -- upstaging tabloids and the paparazzi -- he tweeted to one fan Monday his reasons for opposing the TV show idea.
"Um how about ... I don't want to be stalked!!!" Kutcher tweeted.
Stone, who started Twitter just three years ago with co-founder Jack Dorsey, published a blog Monday saying that Twitter is "very open" and that "openness is not limited to the Web or even to mobile phones."
"In dealing with networks and production companies we sometimes have simple agreements," Stone wrote. "Regarding the Reveille and Brillstein project reported today, we have a lightweight, non-exclusive, agreement with the producers which helps them move forward more freely."
And, he wrote, "Twitter's open approach might have the power to transform television -- the dominant communications receiver worldwide. We're very excited to see where these experiments take us."
E-mail to a friend