By Joshua Rich





(Entertainment Weekly) -- The Disney family film update, "Race to Witch Mountain," won the weekend box office in fine fashion, grossing $25 million according to Sunday's estimates from Media by Numbers.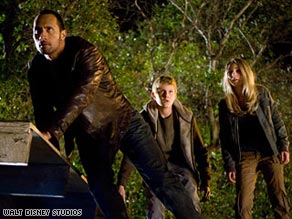 "Race to Witch Mountain" won the weekend box office in fine fashion, grossing $25 million.
That's the second best opening ever for a movie fronted by Dwayne Johnson alone, trailing only the first feature that starred the artist formerly known as The Rock, "The Scorpion King," which banked $36.1 million in its 2002 debut.
"Race to Witch Mountain's" take was in line with expectations and garnered an okay CinemaScore grade of B+ from an audience that was 60 percent female. It should stay strong at the box office at least until "Monsters vs. Aliens" opens in two weeks.
Also in "Race to Witch Mountain's" favor: weak competition from reigning champ "Watchmen" (No. 2), which dropped a hefty 67 percent from its big opening last weekend to gross $18.1 million. Zack Snyder's adaptation of Alan Moore's landmark superhero saga is clearly slowing down, although it has grossed $86 million in 10 days.
Freshman fright flick "The Last House on the Left" was next at No. 3, with an anticipated $14.7 million. That's a decent sum for a horror movie that had the added benefit of opening on "Friday the 13th;" indeed, it's in line with what most scary remakes tend to bring in on their first weekends. Thus, you can expect this film (which got a so-so B CinemaScore review) to fall off the map after this frame, since that's also what most horror movies do.
"Taken" (No. 4 with $6.7 million) remained in the top five well into its second month at the multiplex.
Tyler Perry's "Madea Goes to Jail" came in at No. 5 with $5.1 million. And the weekend's other new wide release, the Playboy-centric comedy "Miss March," grossed an unsexy $2.3 million way down at No. 10.
Meanwhile, the limited indie release "Sunshine Cleaning," starring Emily Blunt and Amy Adams, scored the highest opening-weekend per-theater average thus far in 2009, dusting up a stellar average of $53,500 in four theaters in New York and Los Angeles.
Overall, the box office was a little on the sluggish side, dropping nearly 17 percent from the same frame a year ago, when "Dr. Seuss' Horton Hears a Who!" was the big winner. Still, this is just the first "down" weekend in more than a month, which is comforting.
E-mail to a friend

CLICK HERE to Try 2 RISK FREE issues of Entertainment Weekly
Copyright 2009 Entertainment Weekly and Time Inc. All rights reserved.
All About Movies