By A. Pawlowski
CNN





(CNN) -- Sometimes, when you need just the right thing to say, it's good to let the movies do the talking.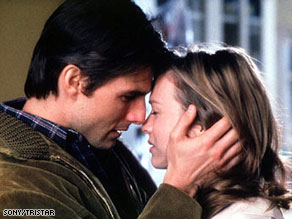 "Jerry Maguire," starring Tom Cruise and Renee Zellweger, inspired couples to say "You complete me."
Whether it's daring someone to "Show me the money!" before sealing a deal, proclaiming "Houston, we have a problem" when something goes wrong or shouting "I'm the king of the world" on a particularly good day, there's a simple pleasure in using those instantly recognizable nuggets of dialogue.
And why not?
When some of the funniest, most dramatic, romantic and poignant words are spoken on the big screen, it's no wonder they stick with us long after the movie is finished.
It also turns out that using movie quotes in everyday conversation is akin to telling a joke and a way to form solidarity with others, according to a researcher who has actually studied why we like to cite films in social situations.
"People are doing it to feel good about themselves, to make others laugh, to make themselves laugh," said Richard Harris, a psychology professor at Kansas State University.
Harris decided to ask hundreds of young adults about their film-quoting habits after he and his graduate students realized it was a common behavior that no one had looked at closely before.
He found that all of the participants in his study had used movie quotes in conversation at one point or another. They overwhelmingly cited comedies, followed distantly by dramas and action adventure flicks.
As for horror films, musicals and children's movies, "fuh-get about it." They were hardly ever cited, Harris said. Watch iReporters deliver their favorite movie lines
When asked about their emotions while quoting films, most people reported feeling happy, the study found.
'The stuff that dreams are made of'
For those who can't get enough of movie quotes, there are countless lists and trivia dedicated to them online. Depending on your budget and taste, you can buy T-shirts, mugs, games and posters featuring your favorites. Web sites like MovieQuotes.com allow users to submit film lines to a growing quote bank and take quizzes.

Test your knowledge of film quotes with our interactive quiz »
Top 10 movie quotes
1. "Frankly, my dear, I don't give a damn." -- "Gone With the Wind"

2. "I'm going to make him an offer he can't refuse." -- "The Godfather"

3. "You don't understand! I coulda had class. I coulda been a contender. I could've been somebody, instead of a bum, which is what I am." -- "On the Waterfront"

4. "Toto, I've got a feeling we're not in Kansas anymore." -- "The Wizard of Oz"

5. "Here's looking at you, kid." -- "Casablanca"

6. "Go ahead, make my day." -- "Sudden Impact"

7. "All right, Mr. DeMille, I'm ready for my closeup." -- "Sunset Blvd."

8. "May the Force be with you." -- "Star Wars"

9. "Fasten your seat belts. It's going to be a bumpy night." -- "All About Eve"

10. "You talking to me?" -- "Taxi Driver"

Source: American Film Institute

Some movies, like "The Godfather," "Casablanca" and "Gone With the Wind," seem infinitely quotable.

Others can produce a single unforgettable line that will define that film forever: "You can't handle the truth" from "A Few Good Men" and "I see dead people" from "The Sixth Sense."

A number of Hollywood masterpieces can infuse a single word with meaning: Think "plastics" from "The Graduate" and "Rosebud" from "Citizen Kane."

Movie quotes can even be used to teach lessons in the unlikeliest places. A blog on JavaWorld.com recently took lines from movies such as "Jaws," "Jerry Maguire" and "The Princess Bride" and applied them to software development, of all things.

"My precious," the words uttered by Gollum in the "Lord of the Rings" trilogy, for example, can teach programmers a valuable lesson, the blog said.

"In software development, it is good to take ownership of things," JavaWorld's blogger Dustin Marx wrote in explaining the quote's significance. "However, we can take it too far to where we refuse to admit anything is wrong with what we've done or insist ours is the only way to go."

'Here's looking at you, kid'

Like a food connoisseur pairing wines with meals, one man's fascination with memorable film lines led him to self-publish a book that advises readers which quotes would be perfect to use in which situations.

Jim Silverstein, author of "Movie Quotes to Get You Through Life," called the 14-year project a labor of love that grew out of his fondness for bantering in movie quotes with friends in college.

Silverstein -- a self-described "computer guy" who lives in suburban Chicago, Illinois -- began compiling his book in the early 1990s, watching hundreds of films and gathering more than 2,000 quotes in the process. The constant search for good lines made it hard for Silverstein to relax while watching films at home and annoyed his wife because he would frequently pause the movies to write down the lines, he said.

Silverstein, 39, categorized the quotes under topic headings such as compliments, excuses and marriage. Readers looking for zingers have an especially big selection of movie lines to choose from; the insults category has nine subgroups, including appearance, intelligence and sex.

Everyone loves movies, so citing them is a way to break the ice, Silverstein explained.

"I think it's a matter of lightening up conversation, maybe finding a better way to say it than you would have said yourself," Silverstein said.

"It's meant to help you be clever. ... Sometimes, when you don't know what to say, why not say what James Caan said? Why not pull out a Marlon Brando: 'Make me an offer I can't refuse'? Everybody understands."

Silverstein's own favorite quotes include lines from movies such as "Roxanne" and "Spinal Tap." But with some of his friends looking for work in a tough economy, he has become fond of citing a line from "Raising Arizona" to cheer them up: "You're young, and you've got your health; what [would] you want with a job?"
What are your favorite movie lines? Tell us by clicking "Sound Off" below.
E-mail to a friend

All About Movies