By Joshua Rich





(Entertainment Weekly) -- Kevin James is still the king of the box office. The actor's "Paul Blart: Mall Cop" finished at No. 1 for the second consecutive weekend, with a $21.5 million gross, according to Sunday's estimates.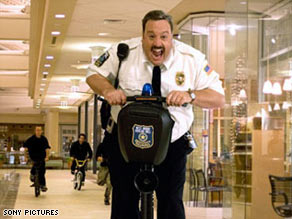 "Paul Blart: Mall Cop" took the No. 1 slot for its second straight weekend.
That tally brought the comedy's 10-day sum to $64.8 million -- and it helped Paul Blart edge out the weekend's presumptive favorite, "Underworld: Rise of the Lycans," which banked $20.7 million at No. 2.
Still, that's a pretty good result for the third Underworld installment, considering the fact that Lycans may have been slated as a straight-to-video thriller at one point in time.
Too, the franchise flick's $20.7 million figure favorably compares to the first Underworld film's $21.8 million debut in 2003, and it's not far off from the $26.9 million first-weekend take of "Underworld: Evolution" in 2006. And, really, this good news isn't much of a surprise when you look at Lycans' good-enough B+ CinemaScore grade from an audience that skewed male.
Three strong holdovers rounded out the top five. Despite its Oscar shut-out, "Gran Torino" (No. 3) stayed strong with $16 million on a mere 27 percent decline. "Hotel for Dogs" (No. 4) also dropped just 27 percent to gross $12.4 million in its second weekend.
And perhaps most notably, "Slumdog Millionaire" (No. 5) got a big boost from all of its Academy Award attention -- and its widest run yet. The foreign drama rose 80 percent over the previous weekend and added a $10.6 million chunk of change to its growing two-month total (which now stands at $55.9 million).
Thus, there was no room for the weekend's other big new release, the family fantasy "Inkheart," to shine. The kids' book adaptation struggled at No. 7, bringing in a much-lower-than-anticipated $7.7 million from a crowd that, according to CinemaScore, was evenly divided between young people and old and leaned toward the ladies (they gave it a B+).
Elsewhere, Oscar nominations -- and, in most cases, theater-count increases -- gave several movies small surges. "The Curious Case of Benjamin Button" (up 8 percent from last weekend), "Revolutionary Road" (up 195 percent), "The Wrestler" (up 117 percent), "Frost/Nixon" (up 351 percent), "The Reader" (up 10 percent), and "Milk" (up 11 percent) all saw their box office totals rise. (In actual dollar figures, among this crop, only 'Slumdog' and 'Benjamin Button' banked more than $6 million.) Even a re-release of the already-on-video 'Dark Knight' took in an additional $661,000.
Overall, Friday to Sunday's combined haul was up nearly 14 percent from the same frame a year ago, when "Meet the Spartans" and "Rambo" led the way.
In other words, if they gave out Oscars for box office performance, this weekend would certainly get one. Or at least be nominated.
E-mail to a friend

CLICK HERE to Try 2 RISK FREE issues of Entertainment Weekly
Copyright 2009 Entertainment Weekly and Time Inc. All rights reserved.
All About Movies