By Alan Duke
CNN





(CNN) -- The same week an African-American family moves into the White House, a movie about a Mississippi high school's first integrated dance debuts at the Sundance Film Festival.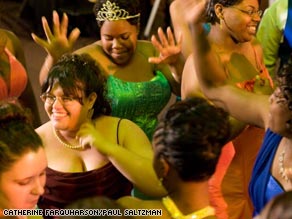 The integrated dance "just was a marvelous affair," Canadian director Paul Saltzman said.
What's most significant about "Prom Night in Mississippi" is not that an interracial prom was organized, but that the historic events took place less than a year ago.
Federal courts forced schools in Charleston, Mississippi, to desegregate in 1970, but no judge ordered the high school proms to merge.
Actor Morgan Freeman, a native of the area, offered in 1997 to foot the bill if the school board would hold an integrated prom. It wasn't until 2008 that his offer was accepted.
Canadian director Paul Saltzman moved into the Mississippi Delta town to document how preparations for the dance might shake up traditions and raise fears.
"When I was doing the research and asking people 'What was the problem in having the prom together?' what whites usually said is, 'You know, blacks are into drugs; they're into violence' and on and on and on," Saltzman said.
White students still held their separate prom, but it offered Saltzman what he called "a great moment of irony."
"The integrated prom, as you see in the film, just was a marvelous affair," he said. "At the white prom, two kids got in a fight. So it worked the other way around."
Saltzman said he had no idea what he would get, but "it just happened that the film turned out to be rather powerful and rather intimate."
He credits the young people who had "courage to really speak their feelings in a small town in which speaking your feelings around racism just wasn't done much."
Saltzman brought two of the students with him to Sundance, where he hopes to find a distributor for his film.

Watch a rundown of the hottest films at Sundance »
Jessica Shivers -- who is white -- stood close by Chasidy Buckley, a black student, for a CNN interview about their prom.
Shivers said that now the prom is over "I don't know actually why the people had concerns in the first place."
"It was actually a great experience," she added. "Integrating was the best thing for us for our prom."
Buckley said that "it just didn't make sense" to hold separate dances because black and white students did everything else together.
"A lot of the white parents were concerned about safety," Buckley said. "They were afraid that fights were going to break out, but the prom went smoothly. It was great; nobody got hurt or anything."
Planning is under way for another integrated prom this spring, Buckley said.

Shivers said, "We pray that it continues."
Saltzman noted the school still may hold an all-white prom again this year.
E-mail to a friend

All About Morgan Freeman • Mississippi • Sundance Film Festival