From Adam Reiss
CNN





NEW YORK (CNN) -- Will Ferrell, the man who invented "strategery" and other Bushisms, is taking his spoofs of the 43rd president to Broadway and HBO.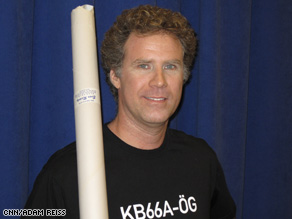 Will Ferrell will star as George W. Bush in a Broadway show that opens in February.
The "Saturday Night Live" veteran will star in "You're Welcome America: A Final Night With George W. Bush" at New York's Cort Theater, with previews in line for Inauguration Day.
The show will take a chronological look at Bush's life -- from his college days and time as the governor of Texas to the 2000 race for president and his two terms in office.
Ferrell, who poked fun at the president with his successful impersonations on "SNL," told CNN he likes that Bush "never thinks he's wrong."
"He's arrogant with a school-boy attitude, and combine that with the fact that he is commander in chief -- and, unfortunately, it's very funny."

He says viewers should "expect the unexpected" from the show -- and some goofy nicknames, something Bush is known to dole out to members of his administration.
The show will premiere on February 5 and run through March 15. HBO has also picked up the show, to air live on an undetermined date.
E-mail to a friend