Organizers of 'pink slip' protest claim 5 million sent to Congress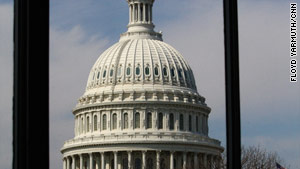 Conservatives have blasted Congress for a variety of things, including the Democrats' health care reform bill.
STORY HIGHLIGHTS
GOP lawmakers and WorldNetDaily figures endorse "pink slip" campaign
Organizers say 5 million of the pink slips sent to Congress
Lawmaker: "Pink slips are a call for fiscally responsible ... Americans"
Neither Web site nor pink slips mention political parties as part of protest campaign
Washington (CNN) -- Voters disappointed over health care and other legislative efforts have now sent 5 million "pink slips" to members of Congress, the conservative Web site WorldNetDaily said Tuesday.
Several Republican lawmakers joined WorldNetDaily figures to endorse the campaign Tuesday on Capitol Hill.
"These pink slips are a call for fiscally responsible and constitutionally responsible Americans," said Rep. Steve King of Iowa.
A pink slip is symbolic of job dismissal, a theme not lost on Rep. Trent Franks, R-Arizona, who said members need to vote the will of the people or be fired in the next election.
Standing in front of posterboards on which dozens of the pink pieces of paper had been attached, Franks told reporters, "You are looking at just a sample of the 5 million pink slips that Americans have sent to Congress."
Those Americans, he said, are "people who are saying to members of Congress that 'we are fed up with the absolute out-of-control spending, and we are going to respond and do what we can to take our country back.' "
Neither the Web site nor the pink slips mention political parties as part of the protest campaign. At least one Republican at Tuesday's event, Rep. Michele Bachmann of Minnesota, said she had been surprised to receive some of the slips because she agrees with the points being made.
The explanation may lie in the fact that for about $30, visitors to WorldNetDaily's online store can order the delivery of a "notice" to every member of Congress.
The slips say lawmakers should oppose four things: "government health care," "cap and trade," "hate crimes" and "any more spending."
A commercial firm hired by the Web site then delivers the messages.
The effort began in September.
Franks was forceful in suggesting that the campaign was inspired by rising opposition to Democrats.
"American people really blew it in the last election," he said, calling on them to urge lawmakers to oppose a list of policies from the Obama administration.
World Net Daily, among its other products, offers the online sale of a bumper sticker that says "You lie!" The words have become a slogan against a range of Democratic issues, popularized after an outburst in September by Republican Rep. Joe Wilson of South Carolina during a presidential speech about health care.
Wilson apologized for the remarks but declined to say whether he would return any campaign donations linked with the incident.