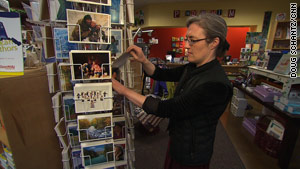 Store owner Shannon Cullip on Sarah Palin: "People either completely ... have her on a pedestal or don't like her."
STORY HIGHLIGHTS
"It's either one extreme or the other" about Palin, bookstore owner says
Considerable curiosity about what Palin will say in book about her future
Successor in governor's office says he keeps in touch "on a personal basis"

Democratic senator treads carefully on subject of Palin and her book

Editor's note: On CNN's "State of the Union," host and chief national correspondent John King goes outside the Beltway to report on issues affecting communities across the country.
Wasilla, Alaska (CNN) -- At Pandemonium Booksellers, the Sarah Palin 2010 calendars are hot sellers, and since the election, the traffic in political books has been decidedly to the right.
"Glenn Beck outsells President Obama at the moment?" is our question as owner Shannon Cullip leads us on a tour of the bookstore.
"Oh yeah," she responds with a laugh. "Big time."
In the window, there is a small Wasilla Chamber of Commerce sticker and an image of the town's famous mayor-turned-governor-turned-GOP vice presidential nominee.
"Going Rogue" is shattering the presale record at Pandemonium Booksellers and reigniting the Palin political divide, even here in her hometown.
"It's either one extreme or the other, I would say," Cullip says of the bookstore's Palin conversations. "I would say people either completely, completely have her on a pedestal or don't like her. Not too much in the middle.
"You will have some people -- 'She's just such an amazing woman' ... 'Can't believe what she has accomplished' and that sort of thing," Cullip said. "The flip side: 'I can't stand her,' you know."
Palin's fast political rise has been good for business: Books on Palin's tenure as governor are in the Alaska section; Obama's "Audacity of Hope" is among the titles in the politics section.
"And during the election, you would find people bought both, they were comparing," Cullip says.
In Wasilla and across Alaska, most believe Palin has future -- and national -- political ambitions, and there is considerable curiosity about what she might say in the new book.
Among those near certain to get a mention is Gov. Sean Parnell, who was lieutenant governor until Palin's abrupt resignation in July.
"I can really say nothing except that I wish her the best because she treated me and her fellow Alaskans so well and looked out for us so well," Parnell told CNN in a recent interview at the governor's office in Anchorage.
"Do you as governor pick up the phone at all and say, you know, 'This is a tough one, let me seek her advice?' " we asked.
"We keep in touch on a personal basis," Parnell said. "I haven't, we haven't, had the policy consults or anything, but we keep in touch."
"You going to read the book?"
"Of course I am going to read the book."
There are plenty of Palin critics in her state. "Impeach Palin" signs are still visible at a downtown Anchorage lot that is a warehouse of sorts for outdoor advertisements.
Not so harsh, but still careful when the subject of Palin comes up, is the state's junior U.S. senator, Mark Begich, who knew Palin from his days as Anchorage mayor.
"I don't know what her future is going to be," Begich said in an interview at an Anchorage waterfront park. "I'll let the public make that decision."
The same question we put to the governor: "Are you going to read the book?"
Said Begich: "Uh, I don't know, you know, I've got so many other, I've got a health care bill to read."
Fireside Books is in Palmer, a town just a short drive from Wasilla. It normally opens at 10 a.m., but owner David Cheezem is planning to open the doors at 7:30 a.m. Tuesday when "Going Rogue" hits the stands.
"I expect people will be lining up and knocking on the door," Cheezem said. "Sarah Palin fans are not the most patient people in the world -- they want it now."
Like Cullip at Pandemonium, Cheezem said the political debate about Palin tends to be black and white -- "Not many people in the middle about her," Cheezem said.
Her sudden selection as Sen. John McCain's running mate had a personal impact on Cheezem. He is a Democrat and decided to make a run for a state House seat last year on the calculation that local Republicans seemed a bit demoralized.
"The thought was, you know, the Republicans aren't all that excited about John McCain -- I might be able to get some votes here, where otherwise I wouldn't," Cheezem said.
"And then she came in and ran for vice president, and at that point, there was just no way," he said with a whimsical smile. "I lost dramatically."
"You don't seem to hold that against her too much?"
"No. No. No," Cheezem told us. "Not if she sells a bunch of books here."