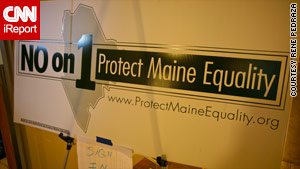 Supporters of the law had hoped Maine would become the first state to approve same-sex marriage with a popular vote.
STORY HIGHLIGHTS
Voters defeat same-sex marriage law 53 percent to 47 percent, report says
Opponent of law: "Institution of marriage has been preserved in Maine"
Maine's governor says he believes issue will be revisited
Measure put to voters in referendum after legislation passed
(CNN) -- Supporters of Maine's same-sex marriage law, which voters repealed, gathered Wednesday to concede the vote but not the issue.
"It seems in the end that Mainers are not ready to treat these families fairly," Betsy Smith told a crowd of No on 1/Protect Maine Equality supporters in Portland, Maine. Two women amid the crowd clutched each other as one cried.
"Having the protection of the law, as well as the respect and dignity that comes only with marriage, is a journey on which we will continue," Smith said.
With 87 percent of the vote counted early Wednesday, the same-sex marriage law was rejected 53 percent to 47 percent, according to the Bangor Daily News Web site.
On Tuesday night, the campaign manager of Yes on 1/Stand for Marriage Maine, Frank Schubert, announced that the referendum to repeal the law had passed.
"It has all come together tonight, the institution of marriage has been preserved in Maine and across this nation," he said to a crowd of supporters.
Mary Bonauto, a lawyer for Gay & Lesbian Advocates & Defenders (GLAD), who lives in Maine with her partner and their two children, said she was disappointed by the vote but she felt "a great deal has been gained through this whole process."
"There is absolutely a way forward," she said, noting that 47 percent of the voters had wanted to keep the law. And, she said, many of the referendum's supporters are in favor of protections for same-sex couples.
Furthermore, Bonauto, who was also a "No on 1" executive board member, said she was proud of the volunteers for the "No on 1" side.
"It was so touching to think about the 8,000 volunteers ... most of whom are not gay," she said. "They took this issue on ... thought about their families and our families," she said. "Boy, there's nothing like it. ... Somebody else is standing in your shoes. .... That just gives me enormous optimism about the future."
Scott Fish, a spokesman for Stand for Marriage Maine, said the campaign had never been anti-gay.
"The campaign was very clear about that," he said by phone Wednesday. "This was a campaign about protecting traditional marriage."
Fish said there were two main reasons the group wanted to repeal the law, which was signed by Gov. John Baldacci on May 6. There was a religious element wanting to continue to define marriage as between a man and a woman, he said, but the group also felt that the legal inequities in domestic partnerships as compared with marriage could be addressed through lawmaking.
"We see no compelling reason for Maine to redefine marriage" just to address these inequities, he said.
Baldacci said Wednesday that he believed the issue would be revisited.
"We didn't take on this issue because we were certain that we would win," he said in a written statement.
"We did it because it was the right thing to do. Last night, we didn't reach the top of the mountain. But we did change a lot of hearts and a lot of minds. Eventually, we will be successful in making sure all Maine individuals and families are treated equally."
Supporters of the law had hoped that Maine, in a region that has appeared more accepting of same-sex marriage, would become the first state to win a popular vote approving such a measure.
Other states that have established such laws -- Connecticut, Massachusetts, Vermont, Iowa and New Hampshire -- have done so legislatively or judicially. New Hampshire's law will officially take effect next year.
Human Rights Campaign President Joe Solmonese said in a written statement that the vote in Maine made him angry.
"But more importantly, I am determined that with the anger I feel today from this outcome in Maine, we'll rise ever stronger to demand equal treatment under the law and equal respect for our relationships in Maine, California, New Jersey and every state of the Union."
The president of the National Organization for Marriage, Maggie Gallagher, told The New York Times the vote in Maine interrupted "the story line that is being manufactured that suggests the culture has shifted on gay marriage and the fight is over."
She added, "If they can't win there, it really does tell you the majority of Americans are not on board with this gay marriage thing," she said, the newspaper reported.
The organization did not immediately return a phone call from CNN for comment.