WASHINGTON (CNN) -- Two detainees released from the U.S. military's prison in Guantanamo Bay, Cuba, have been transferred to Kuwait and Belgium, the Department of Justice announced Friday.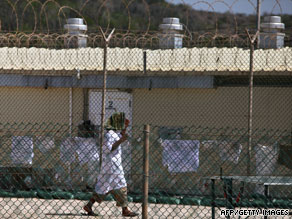 A detainee inside the Guantanamo Bay prison is shown in May 2009.
It only identified Khalid Abdullah Mishal al-Mutairi, a Kuwaiti native, who was transferred to his home country. Belgium's government asked Washington not to reveal the identity of the detainee it has accepted.
Al-Mutairi was released on Thursday after spending nearly eight years in Guantanamo, according to the Kuwaiti Family Committee, an advocacy group for Kuwaiti detainees at Guantanamo. It is unclear when the second detainee was transferred to Belgium.
Al-Mutairi's release follows a federal court ruling on July 29 as well as pressure from Kuwait's government, the group said.
Al-Mutairi will be housed in a rehabilitation center in Kuwait, recently built by the government to provide the detainees with "education, medical care, group discussions and physical exercise to help them recover from their long ordeal in Guantanamo," the Kuwaiti Family Committee said.
The center was modeled after a similar program in Saudi Arabia.
The recently released detainees join more than 550 from Guantanamo who have been transferred to 32 countries. More than 220 detainees remain at Guantanamo.
The House of Representatives recently voted overwhelmingly not to allow detainees to be brought to the United States for trials or to be housed as prisoners.
Attorney General Eric Holder has expressed frustration with congressional curbs on bringing the detainees to the United States, but said he thinks he can turn Congress around on the issue.
"I think we ultimately will be in a position to convince a majority of the members of Congress that that restriction should be removed," Holder said this month.
Holder acknowledged the administration's efforts to close the Guantanamo Bay prison continue to run into delays, and that President Obama's January deadline for closing it will likely have to be delayed.
Holder has personally vowed to lobby to change minds on Capitol Hill. But he also acknowledged there are other sticking points.
"One of the things that we're going to have to do to (is) come up with a facility in the United States to house people that are brought for trial here. That's something we're in the process of working on," he said.
The countries that have agreed to house Guantanamo detainees include Albania, Algeria, Afghanistan, Australia, Bangladesh, Bahrain, Belgium, Bermuda, Chad, Denmark, Egypt, France, Iran, Iraq, Jordan, Kuwait, Libya, Maldives, Mauritania, Morocco, Pakistan, Portugal, Russia, Saudi Arabia, Spain, Sweden, Sudan, Tajikistan, Turkey, Uganda, United Kingdom and Yemen.
E-mail to a friend

All About Guantanamo Bay Detention Center • Eric Holder