By Bill Mears
CNN Supreme Court Producer






WASHINGTON (CNN) -- The Supreme Court began its new term Monday with much of the focus on new Justice Sonia Sotomayor, who recently made history by becoming the high court's first Latina member.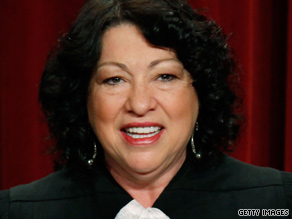 Justice Sonya Sotomayor made history as the first Latina to serve on the Supreme Court.
Justice Anthony Kennedy -- the court's perennial swing vote -- continues to be in the media spotlight.
But it is the court's youngest member, the one with the least judicial experience, who may prove most influential in the months ahead as he continues to push a forceful conservative agenda on hot-button social and economic issues.
Chief Justice John Roberts has used an easygoing charm, quiet confidence and a steely intellect to keep the court steered rightward since he took over in 2005. He has nimbly used his leadership position and tactical skills to affect change on a court known for glacial, incremental movements in key areas of law.
"While he may not be the swing vote, this is definitely John Roberts' court," said Thomas Goldstein, a prominent Washington appellate attorney and co-founder of scotusblog.com.
"He sets the tone. He seems to be the one who is guiding the court in terms of how aggressively to move the law," Goldstein added. Whether reshaping the agenda "in a conservative direction or just reshaping the docket, he has a firm control over the court."

View details of some of the cases awaiting the Supreme Court »
The justices have returned from their three-month summer recess prepared to jump into a range of important issues in coming months, including:
• Gun rights and the ability of states to enforce restrictions on weapons;
• Attempts to display religious symbols on public land;
• Whether juvenile criminals deserve life sentences without parole for nonhomicide offenses;
• International child abductions and the rights of parents to have custody agreements enforced overseas.
Other notable cases involve dog fighting, civil commitment for sex offenders, government takings, Miranda rights and terrorism.

Watch how a cross in the Mojave Desert came before the Supreme Court »
The nine justices rarely publicly discuss their private deliberations or inter-personal relationships. But court sources say that despite strong ideological differences, the justices get along well with each other.
The justices enjoy each other's company, and sources close to Sotomayor say she has been welcomed warmly into the fold. She has told friends how pleasantly surprised she was at the level of congeniality she encountered in her first days on the bench.
Don't Miss
Much of that credit goes to Roberts, sources say, who has managed to ease tension levels over the past four years. Roberts' predecessor, William Rehnquist, died as the court's fall 2005 term began and Justice Sandra Day O'Connor had announced her retirement. The strain of those departures and a contentious docket contributed to a level of frustration that lingered for months among both conservative and liberal members.
Roberts had clerked for Rehnquist, who was known for his deft leadership in guiding a divided court. The new chief justice learned from his mentor the art of keeping happy what are essentially nine distinct fiefdoms, with each justice free to vote as he or she wishes.
Roberts acknowledged to CNN in 2006 the difficulty of subordinating substantive disagreements on the nation's highest court. But, he said, a unity of purpose will serve the court well, especially when faced with the most difficult issues.
"The important point is that the key to achieving this broader consensus on a collective and collegial court does not rest with any individual member, chief justice or not, but with the court as a whole," he said.
"There will, of course, be divisions on the court and those cannot and should not be artificially suppressed. But the rule of law and the court as an institution both benefit from broader agreement."
Roberts has nevertheless repeatedly proven he has the authority to marshal a conservative five-vote majority when necessary.
That authority was never more in evidence than in early September, when the court returned early for urgent consideration of a volatile campaign finance reform case. Roberts dominated oral arguments over whether the court should craft a major overhaul of federal campaign spending by granting corporations and labor unions more power to spend their own money on political messages.
"We don't put our First Amendment rights in the hands of FEC (Federal Election Commission) bureaucrats," he said.
Roberts and fellow conservative Samuel Alito may be key in deciding how far the court will go in ordering changes in the law.
The biggest conservative imprint this term, however, may pertain to gun rights. The court's conservative majority, in recently overturning Washington's restrictive handgun ban, established a clear individual right to bear arms.
Now Roberts and his colleagues are taking up cases with the potential to further reduce state and local authority in this contentious policy arena.
When it comes to the public face of the court, there is no doubt that Roberts, 54, is in control.
The high court, however, remains sharply divided on the most high profile cases. In the last term, almost one-third of the rulings were divided along 5-4 lines. Most were split between reliable "conservatives": Roberts and Justices Kennedy, Antonin Scalia, Clarence Thomas and Alito; and reliable "liberals": Justices John Paul Stevens, Ruth Bader Ginsburg, Stephen Breyer and the now-departed David Souter.
Sotomayor is expected to join the progressives, maintaining the balance set by her predecessor.
Roberts has taken his share of public knocks recently, most notably over his administration of the the presidential oath of office during January's inauguration. The chief justice bungled the wording of the oath slightly when administering it to Barack Obama. He returned to the White House the next day to deliver it again, to eliminate any confusion over whether the president was legally in charge.
Another power broker on the court -- indirectly -- may be President Obama himself. The president has called his selection of Sotomayor the most important decision to date in his term. The potential to create a lasting legacy through his judicial appointments may be felt for decades. And the head of the executive branch may soon get another chance to make his mark on the high court.
There has been some speculation that Stevens, the oldest member of the court at age 89, may be considering stepping down soon. He has yet to hire his full complement of law clerks for the 2010 term, a signal he may not wish to serve much longer.

"Before the end of President Obama's term he's almost certain to get to replace another Supreme Court justice, very likely Justice Stevens," said Goldstein. "So he already has to be thinking the next step about building his legacy at the court."
For now, Roberts enjoys a shaky conservative majority. But recent history has shown how mercurial that power can be for a court that has resisted one overriding identity. Nine justices rarely speak with one voice.
E-mail to a friend

All About U.S. Supreme Court • John Roberts (Chief Justice) • Sonia Sotomayor