From Dana Bash
CNN Senior Congressional Correspondent





WASHINGTON (CNN) -- President Obama campaigned on a vow to end wasteful spending, but even in a time of war and record deficits, pork still reigns on Capitol Hill.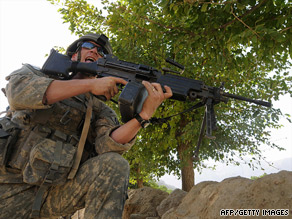 There are dozens of earmarks in the funds slated to pay for troops' essential needs.
Funds meant to help U.S. troops at war are instead being spent on senators' pet projects that are geared more toward helping their home states.
Utah National Guardsmen returning from risky deployments receive a gesture of appreciation, a video scrapbook about their battalion and tour of duty. The video is produced by a business in Utah called StoryRock.
Utah's Republican Sen. Robert Bennett wants to help his home-state company take their project nationwide, so he's secured a $5 million earmark in the defense spending bill.
That $5 million comes from the fund that's supposed to pay for troops' basic needs such as food, fuel and ammunition.
But Bennett says the project saves money in the end.

Watch more on the wartime earmarks »
"It's been proven to be a very strong retention tool, recruitment tool," he said. "The military spends a lot of money to try to get people to re-enlist. We're frankly saving them some money."
Bennett is hardly the only senator using the budget to bring home the bacon.
Republicans and Democrats have 59 earmarks in the funds slated to pay for troops' essential needs, according to a CNN count. And those special projects come with a hefty price tag, totaling nearly $172 million.
"This is the life blood of our military," said Sen. John McCain, R-Arizona.
McCain and other anti-earmark crusaders say these earmarks, known as pork, are an outrage. The Pentagon -- which didn't ask for the pet projects -- isn't too pleased, either.
"Every dollar that we are forced to spend on things which we do not need requires us to take money from things which we do need. And the people who lose in that trade-off are our troops and the taxpayers," said Geoff Morrell, the Pentagon press secretary.
The Pentagon did not request cold-weather gloves for troops in Afghanistan. But Democratic Sen. Tom Carper of Delaware secured $5 million for W.L. Gore, Gore-Tex, which has 640 employees in his state.
"You know, special forces are fighting in very difficult conditions in the winters in the mountains in Afghanistan. I want to make sure they have what they need to be safe," Carper said.
Carper acknowledges that his earmark will help folks back home, but he says it helps troops, too. That's also what Republican Sen. Olympia Snowe says about the $20 million she's sending home to Maine to fix Humvees.
Snowe said she didn't know whether the Pentagon specifically asked for the funds. "But it's not only the Pentagon's decisions," she said. "There are several branches of government. Legislative branch is one of the three. And I think it's a mutual decision-making process."

The three senators CNN talked to all said it's their job.
There is more transparency in earmarks these days since lawmakers are required to make them public and post them online. But watchdog groups argue that they are still a problem because they are still projects that are secured by powerful lawmakers and sent back home with no bidding and no competition.
E-mail to a friend

All About War and Conflict • U.S. Senate