By Ruben Navarrette Jr.
Special to CNN






Editor's note: Ruben Navarrette Jr. is a nationally syndicated columnist and a regular contributor to CNN.com. Read his column here.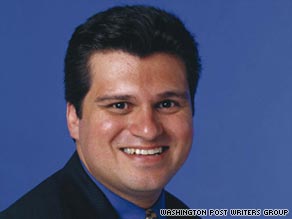 Ruben Navarrette Jr. says Obama should be talking about the videotaped death of a Chicago teen.
SAN DIEGO, California (CNN) -- When his stint in the White House is over, President Obama might just learn that Thomas Wolfe was right. You can't go home again.
Back in Obama's adopted hometown of Chicago, Illinois, some members of the black community are incensed at the president for not personally speaking out about the murder of Derrion Albert, a 16-year-old boy who was beaten to death last week in a predominantly African-American neighborhood.
What really set them off was that Obama, in an awkward case of bad timing, instead flew to Copenhagen to pitch Chicago to the International Olympics Committee as the ideal city to host the games in 2016. And as it turned out, it didn't put Chicago over the top. The city didn't even make it to the final round in Friday's voting.
I think the critics are being too hard on Obama. Given how ambivalent he seems about Iran and how disinterested he appears in the rest of American foreign policy, it's nice to see him get passionate about something.
The best Obama could do on Albert were weak comments from White House Press Secretary Robert Gibbs, and only then in response to a question from a reporter, not as part of a formal statement. The president found the video of the beating "chilling," Gibbs assured us.
Too many young people have become desensitized to violence. This scourge doesn't discriminate. Today, it's a videotaped beating of an African-American kid in the inner city by other African-Americans. Yesterday, it was a videotaped beating of a white teenage girl in the suburbs by other white teenage girls.
The beating in Chicago was fatal -- and particularly grotesque. An outraged African-American man standing at the site of the beating told CBS News that what had happened there days earlier was an act of "savagery."
Don't Miss
Watching the video, it's hard to find a better word. We see a melee involving about 50 teenagers that took place near Fenger High School, where Albert was an honors student. We see Albert being hit on the head by another boy from behind with a long wooden board later identified by authorities as a splintered railroad tie.
We see Albert falling to the ground, and when he stands up, we see him punched in the face by a second boy. We see Albert fall again, get up, and return to the floor after getting hit again by a third boy with another board. Then we see a fourth boy stomping on top of Albert's head. He doesn't get up.
Prosecutors have charged four teenagers age 16 to 19 with first-degree murder and police say they are looking for three more who were involved in the melee.
This crime is outrageous and heartbreaking. Obviously, if convicted, the four teenagers deserve to spend the rest of their lives behind bars. But what is broken here can't be fixed by harsh punishment alone.
We've raised a generation of predators, one that is willing to kill for a good time. Too many parents have dropped the ball, too many communities are overly permissive, and too many young people don't think about how random acts of brutality can destroy people's lives.
There is plenty for Obama to say about this tragedy in the Windy City. And the longer the president waits before he starts talking, the more damage he does to his reputation, even among some of his most ardent supporters. iReport.com: Chicagoan says don't blame Obama for violence
Judging from what's being said on talk radio, Web sites and blogs frequented by residents of Chicago, the fact that Obama put the Olympics ahead of responding to the breakdown of the social order in Chi-Town is a slap in the face.
Just yesterday, a self-identified African-American called into "The Rush Limbaugh Show" and complained about how Obama flew off to "a foreign country" while black kids in Chicago are being consumed by violence. The caller wondered when other African-Americans were going to realize that Obama wasn't like them, because he's an elitist living an extraordinary life and breathing rarified air.
That sentiment was all over black-oriented blogs. One blogger wrote: "More children died violent deaths in Chicago this year than in any other city in America. But all Obama cares about is bringing the Olympics to a city where basic services like water, sanitation and power often don't work. ... If Chicago does win the bid there will be plenty of police and National Guard on hand to protect the international visitors. That's more than they are willing to do for their own residents."
I scrolled through a few dozen posts from readers, some contemptuous of how Obama has been silent about Albert's murder. Clearly, secondhand comments from the White House press secretary aren't going to cut it.
In fact, someone compared Obama's reaction to this societal problem to how he reacted to another one a while back, racial profiling. The person wrote: "u all think that Derrion Albert's mother will be invited to the White House for beer?"
That stings. It's just as well Olympics won't be heading to Chicago in 2016. The Obamas might not be there anyway. When they leave the White House, they might decide to steer clear of Chi-Town and take up residence somewhere else. I hear Hawaii is nice.
The opinions expressed in this commentary are solely those of Ruben Navarrette Jr.
E-mail to a friend

All About Barack Obama • Chicago