By Carol Cratty
CNN





WASHINGTON (CNN) -- The Department of Homeland Security will hire up to 1,000 cybersecurity experts over the next three years to help protect U.S. computer networks, an Obama administration official said.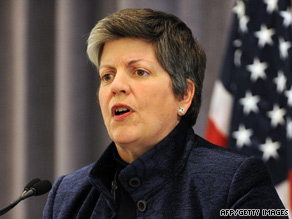 Department of Homeland Security Secretary Janet Napolitano seeks to hire up to 1,000 cybersecurity experts.
"Cybersecurity is one of our most urgent priorities," said Homeland Security Secretary Janet Napolitano in making the announcement Thursday.
She unveiled the plans at an event marking the beginning of National Cybersecurity Awareness Month.
"This new hiring authority will enable DHS to recruit the best cyberanalysts, developers and engineers in the world to serve their country by leading the nation's defenses against cyberthreats," according to Napolitano.
U.S. officials are mindful that both government and private sector computer sites have been targeted, and consequences can be dire. The Internet, Napolitano said, is "a critical part of our everyday lives and how our society and our economy operate."
She added, "We rely on cybernetworks to control and manage transportation, electricity, banking."
Department officials could not say precisely how many cyberexperts now work at DHS and its various component agencies such as the Secret Service and Immigration and Customs Enforcement. Napolitano said she doubts it will be necessary to fill all 1,000 of the authorized positions, but she is focused on making DHS a "world-class cyberorganization."
The Obama administration has set cybersecurity as a top priority but has yet to hire a cyberczar to head up its efforts. Chris Painter, the White House National Security Staff's acting senior director for cybersecurity, said the president remains committed to finding someone for the post.

E-mail to a friend

All About U.S. Department of Homeland Security • Janet Napolitano