From Charley Keyes
CNN





WASHINGTON (CNN) -- Thursday's meeting between the United States and Iran may be the highest-level talks in three decades between the two countries, but the United States is cautious about predicting what might come next.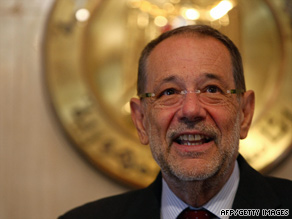 European Union foreign policy chief Javier Solana will determine details of Thursday's meeting.
The meeting is central to the Obama administration policy of international "engagement" and its attempt to persuade Iran to halt its nuclear program. Iran says its nuclear enrichment and other activities are for civilian power-generating uses only, while the United States is concerned that Iran is determined to build nuclear weapons.
"We don't think these issues will be solved in one meeting," State Department spokesman P.J. Crowley said at his midday briefing in Washington on Tuesday. "I don't think we will get the full perspective of Iran's willingness to engage in one meeting. Clearly, once we are at the table, we hear from them, we see the tone, we'll know some things. And the real question is, are they willing to engage in a process?"
"That is the ultimate question on the table: Is Iran going to come to the meeting on Thursday prepared to seriously address the concerns that the international community has?" Crowley said. "We will see what happens on Thursday."
Undersecretary William Burns will represent the United States at an undisclosed location in Geneva, Switzerland. The meeting will include Iran and as well as the other members of the "P5 plus one": the five permanent members of the United Nations Security Council -- the United States, Britain, France, Russia and China -- as well as Germany.
Details of the meeting, including its setting and duration, will be determined by European Union foreign policy chief Javier Solana.
"We will welcome whatever opportunity presents itself for discussion. ... If it goes well, probably anticipate one or more plenary discussions, perhaps the opportunity for lunch and further discussions," Crowley said in Washington.
"We are not going to make a snap judgment on Thursday," Crowley said. "We are going to see how that meeting goes, evaluate the willingness of Iran to engage on these issues. If there is a process, then you can infer there will be subsequent meetings after that."
Crowley said the United States welcomed an announcement from Iran on Tuesday that Swiss officials would be allowed to meet with three American hikers arrested in Iran last month. Since diplomatic relations between the United States and Iran broke off after the takeover of the U.S. Embassy in Tehran in 1979, the Swiss have represented American interests in Iran.
But Crowley would not say if the announcement was a signal of Iranian goodwill just two days before the Geneva meeting.
"We'll see. Obviously, we welcome this step; but obviously, we are anxious to see Iran seriously engage on Thursday, and we look forward to that meeting as well," Crowley said.
"We welcome the fact that Iran is meeting up to its obligations under the Vienna Convention, and clearly on Thursday we will have a similar message that Iran has to live up to obligations under the nonproliferation treaty."
E-mail to a friend