From Candy Crowley
CNN Senior Political Correspondent





WASHINGTON (CNN) -- President Obama faces a daunting fall to-do list against the backdrop of an American public losing enthusiasm on a variety of issues.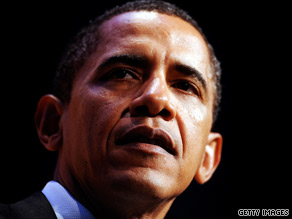 President Obama's top priorities this fall are health care and financial reform.
Obama's agenda ranges from dealing with Iran's nuclear ambitions to traveling to Copenhagen to pitch Chicago for the 2016 Olympics -- a trip the president said two weeks ago he could not take because he was working on health care.
"Health care reform has been his No. 1 priority issue here domestically. He wanted to make sure that if he went, that it wouldn't have an adverse impact on that, so he's going for just a day," said senior adviser Valerie Jarrett.
And health care will still be at the top of the list when the president gets back. This fall, his priorities are health care and financial reform, one Capitol Hill source said.
But health care reform will require a hands-on approach. The Senate Democratic leadership is looking for presidential guidance in creating one bill out of two very different ones -- all the while holding onto enough votes to pass it.
And as for Obama's other goal, the administration sent financial reform legislation to the Hill and on both sides, committee work has begun, but it's a long way from cooked.
A number of Capitol Hill players say privately that anything beyond health care and financial regulation would be a miracle this year.
Don't Miss
On the global scene, in addition to Iran, Obama also must deal with winding down the war in Iraq and deciding what's next for the U.S. in Afghanistan -- and whether more troops are needed.
"I think you saw [Defense Secretary Robert] Gates say that a resource request that he gets will not be sent here to the White House until he believes and the president believes that we are in a position having reached a consensus on moving forward," White House press secretary Robert Gibbs said.
Also worth noting, Obama's goal of closing down the prison at Guantanamo Bay is proving to be difficult -- and slow enough that his original deadline of January 2010 is no longer a deadline.
"We are not focused on whether or not the deadline will or won't be met on a particular day. We're focused on assuring that the facility is closed," Gibbs said.
And then of course, there is the unknown -- the unpredictable things that require immediate attention in any presidency.
It's a lot -- but during the campaign, then-candidate Obama seemed to know what he was getting into, telling voters, "presidents are going to have to deal with more than one thing at a time."
Those words have since proven to be a bit of an understatement.
E-mail to a friend

All About Barack Obama • Health Care Policy • Iran