By Moni Basu, Melissa Gray and Joe Sterling
CNN





(CNN) -- Iran's admission that it is building a second uranium enrichment plant and the West's blunt condemnation of the project will probably place the Islamic republic in a diplomatic corner, analysts say.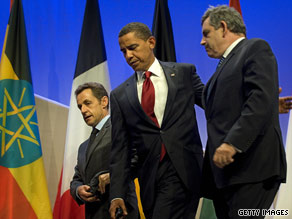 France's Nicolas Sarkozy, President Obama and Britain's Gordon Brown issued tough statements on Iran.
But there are questions whether the timing of Iran's announcement -- just days before the October 1 meeting between Iran, Germany and the U.N. Security Council's permanent members -- could work to the regime's advantage.
David Albright, a former U.N. weapons inspector and president of the Institute for Science and International Security, said the sharp statements from President Obama, British Prime Minister Gordon Brown and French President Nicolas Sarkozy deploring the "huge" development were "very tough."
"It's going to be very interesting to see if Iran comes back in a challenging way or in a conciliatory way," Albright said, emphasizing that the development is "going to certainly increase the mistrust of Iran" and that the "political damage is going to be quite severe to Iran internationally."
Albright said people have suspected for a long time that such a facility was being built, "because this is the pattern of Iranian activities and its nuclear program."

Watch world leaders react to Iran »
Although it's hard to know how this will play out, he said, "one hopes that this puts Iran more on the defensive and more in the mood to make some compromises." He also said it makes Iran "a little more vulnerable to military strikes and to international pressure."
At the same time, he said, "Iran is very flexible and very clever. And so I think it's going to be a rough ride as this story develops."
The United States was aware of Iran's unfinished uranium enrichment site for several years, senior U.S. officials said Friday.
U.S. officials have known about the facility since President George W. Bush's administration, according to the officials, who declined to be identified because of the sensitive nature of the negotiations.
Don't Miss
Iran came to realize fairly recently that the facility was no longer secret, so Washington found itself in a race with Iran to reveal the facility to the international community, the officials said.
Iran sent a letter on September 21 to the International Atomic Energy Agency, the U.N. nuclear watchdog, disclosing that a new pilot fuel enrichment plant is under construction in the country near the city of Qom.
That letter led the Obama administration to provide intelligence on the site to its allies, including China and Russia, in an attempt to get the two countries to support sanctions on Iran.
It was also the impetus for Washington to work with Britain, France and Germany to put together a highly detailed presentation to the International Atomic Energy Agency on Thursday, the officials said.
Ray Takeyh, fellow on the Council of Foreign Relations, said the Obama administration and others trying to increase pressure on Iran are "softening them up for a meaningful dialogue, possibly for concessions."
"They are in a pressure tack. They are trying to get meaningful engagement through pressure," he said.
Paul Ingram, executive director of the British-American Security Information Council in London, an independent research and advocacy organization, said the timing of Iran's revelation -- in between United Nations General Assembly sessions and and the key meeting between Iran and key Western powers -- is deliberate on Iran's part.
"It is not at all surprising that Iran would want this news to come out now," Ingram said. "It strengthens their hand."
The fact that Iran has proactively informed the world helps Iran diplomatically in conducting nuclear negotiations, Ingram said, adding that to characterize this second facility as a covert operation is misleading. The Iranians have yet to start production at Qom and are revealing it before that happens.
"It will be seen as an indication that they are willing to play by the rules, and this will make it more difficult to persuade them to abandon enrichment," Ingram said.
Iran, he said, is several years away from producing nuclear weapons. It has made clear that it intends to expand its first facility in Natanz. If Iran gains by its latest revelation, then the nuclear program has a strong chance of marching ahead. It also diverts attention from activities in Natanz.
It's not just Iran's arch-foe Israel that is threatened by that, Ingram said, but the entire world. And interestingly, Ingram said, the letter to the IAEA returns the spotlight to Iran's nuclear program and away from what Ingram considered an equally pressing issue: the disputed presidential elections and the crackdown on demonstrators in its aftermath.
"The attention has been taken away from the legitimacy of Iran's regime. The focus again is on nuclear issues," Ingram said.
Sajjan Gohel, international security analyst as the Asia Pacific Foundation in London, said the announcement "doesn't necessarily bode well" for the Islamic republic.
"You could say they've been duplicitous for the last few years, and if they're revealing this now, what else haven't they revealed? So, it raises more questions than answers.
"We don't know the full scale of what Iran's nuclear facilities entail. They keep claiming that it's for peaceful purposes, whereas if you speak to those in France or Britain or the United States, they're increasingly more convinced that Iran is wanting to have a nuclear weapons program."
Also, he said, such an announcement could "encourage" other Middle East countries "to pursue their own [nuclear] programs as well."
Ben Rhode, research analyst at the International Institute for Strategic Studies in London, thinks the Iranians were trying to pre-empt an announcement that was going to prompt stiff "repercussions."
He said it's not surprising that Iran held back from providing information to the IAEA, but he wondered what they had to gain from their secrecy, since they argue that their nuclear aspirations are strictly for energy and not military purposes.
"This will really give a kind of strong ammunition to those who are arguing for stronger measures to be taken against Iran," Rhode said. "This really is quite a strong piece of evidence to show the Iranians are up to suspicious activities."
Rhode believes that the Iranians are trying to portray their admission as as "honest" and an effort to come clean with their activities.
He said they are trying to portray this as a voluntary disclosure so they can point out how helpful they are being. If the news had been revealed at a news conference by the Americans, that's much worse than if the Iranians can say they voluntarily divulged it, Rhode said.
"It's an attempt by them for damage limitation."

But Rhode said the chilling reality of the development is that it shows Iran has the ability to clandestinely erect centrifuges.
"It alters one's perception of how Iran could acquire a nuclear weapon."
E-mail to a friend

All About Iran • Barack Obama • Nicolas Sarkozy • Gordon Brown