NEW YORK (CNN) -- President Obama mixed policy discussion with personal reflections on his daughters and, yes, a few jokes in an appearance on CBS' "Late Show With David Letterman."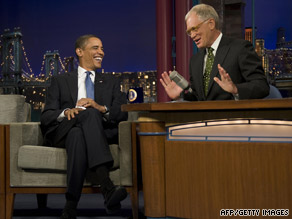 President Obama jokes with David Letterman in New York in an interview taped Monday afternoon.
It was the first time a sitting president has been a guest on the popular late-night entertainment show, according to the CBS Web site. It was taped Monday afternoon.
After taking the stage to a huge ovation, Obama teased Letterman about being surprised to see the event on his daily schedule, saying: "That's one of those where you ask your advisers, 'Who's responsible for this?' "
Later, when talking about summer activities of daughters Malia, 11, and Sasha, 8, Obama said that they "goofed off," which he added was something he couldn't do. Letterman quickly quipped: "Well, others have," prompting a big laugh from both the audience and the president.
On topical issues, Obama promised to ask "tough questions" before deciding whether to send additional U.S. troops to Afghanistan, saying it was necessary to have a clear strategy in place before deploying resources.

Watch Obama talk with Letterman »
He said his "No. 1 job" is to make sure the terrorists responsible for the Sept. 11, 2001, attacks can never harm the United States again.
Asked about the economy, Obama called the $787 billion economic stimulus package passed in his first month in office a "tourniquet" that prevented the recession from getting worse. Complete economic recovery will take time, he warned, but added that the situation appeared to be getting better.
Don't Miss
On the hostile debate over his push to overhaul the nation's health care system, Obama disagreed with the analysis by some that the public anger against him is fueled by racism.
He drew a big laugh by pointing out he was black before he became president, then noted that his election by the American public "tells you ... a lot about where the country is at."
"I think that what's happened is that whenever a president tries to bring about significant changes, particularly during times of economic unease, then there is a certain segment of the population that gets very riled up," Obama said.

Previous presidents including Franklin Roosevelt, John F. Kennedy and Ronald Reagan also generated emotional opposition, Obama said.
"This is not untypical," he said. "One of the things you sign up for in politics is, folks yell at you."
E-mail to a friend

All About Barack Obama • David Letterman