CHICAGO, Illinois (CNN) -- Christopher Kelly, former chief fundraiser for ex-Illinois Gov. Rod Blagojevich, has died, according to the ex-governor and a hospital official.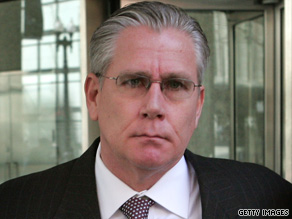 Christopher Kelly, 51, was former Illinois Gov. Rod Blagojevich's chief fundraiser.
"I am deeply saddened to hear that Chris had died," Blagojevich's statement said.
The Cook County, Illinois, medical examiner did not return calls Saturday. However, Kelly, 51, of Burr Ridge, was pronounced dead at Stroger hospital in Cook County at 10:46 a.m. Saturday, hospital spokesman Marcel Bright told CNN.
Bright said Kelly had been treated at another county hospital late Friday before being transported to Stroger early Saturday, though he would not disclose any other details.
"It is now a police investigation," he said. Watch report on death of Kelly

Cook County authorities did not release any details about Kelly's death. Blagojevich was in New York and declined to comment further.
Earlier this year, Blagojevich, who was impeached and removed from office, pleaded not guilty to federal corruption charges. A federal grand jury in April indicted him on 16 felony counts, including racketeering, conspiracy, wire fraud and making false statements to investigators.
The indictment also named some of Blagojevich's closest aides, including Kelly; former chief-of-staff, John Harris; and Springfield millionaire William Cellini.

On Tuesday in a separate case, Kelly pleaded guilty to two counts of mail fraud "as part of a kickback scheme to illegally obtain $8.5 million in work at O'Hare International Airport," the Chicago Tribune reported Saturday in story about his death on the newspaper's Web site.
"At the time, Kelly, 51, said he was under pressure from federal prosecutors to cooperate in their investigation of Blagojevich, but he refused," the Tribune reported.
E-mail to a friend

All About Illinois • Rod Blagojevich