WASHINGTON (CNN) -- Democrats met Friday in hopes of achieving consensus on one of the biggest sticking points in the health care battle, while the House majority leader predicted final legislation will include a public option.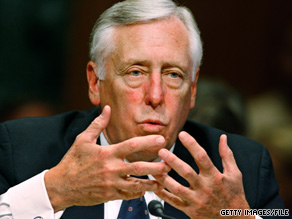 House Majority Leader Steny Hoyer says of the public option: "We ought not to just focus on that."
The question is what form it will be in, House Majority Leader Steny Hoyer, D-Maryland, told CNN's "American Morning."
"We'll have to see how that legislative process goes. The public option is a priority for us, it's our objective, and we think that in some form, a public option will be available," Hoyer said.
A government-run public option has become the focal point of the health care debate.
In recent days, the White House has been speaking with moderate Republican Sen. Olympia Snowe of Maine, one of the Senate Finance Committee negotiators on health care, about her idea for a trigger mechanism that would bring a public option in the future if health care legislation fails to meet thresholds for expanding coverage and reducing costs, Snowe confirmed earlier this week.
Democrats who are uneasy with a public option, such as Sen. Ben Nelson of Nebraska, have said they could support a trigger mechanism. Such support could gain the 60 Senate votes necessary to overcome any filibuster attempt by Republicans for a health care bill.
The mechanism also might satisfy some liberal Democrats who previously described a public option as a necessity. House Speaker Nancy Pelosi, D-California, had argued that a bill wouldn't pass the House without a public option.
But Pelosi and Democratic leaders have softened their language in recent days as the focus has turned more toward a compromise.
"This is about a goal. It's not about provisions," Pelosi said Thursday, adding that so long as legislation meets goals of "affordability and accessibility and quality ... then we will go forward with that bill."
Republicans unanimously oppose including a public option as part of initial steps. Some more conservative-leaning Democrats also express concerns that it could be too much government involvement and could put private insurers out of business through unfair competition.
President Obama insists a public option entity would act as a nonprofit that has to fund itself. He said it would help hold insurance companies accountable.
In his speech Wednesday night to Congress, Obama invited alternatives that fulfill his requirement that health care legislation must increase competition for insurance coverage to lower costs and expand accessibility.
Democratic proposals passed by three House committees and one Senate panel include a public option, but a compromise bill under negotiation by six members of the Senate Finance Committee -- three Democrats and three Republicans -- has dropped the provision.
"We want to see the public option in a bill passed from the House," Hoyer said Friday. But he added, "We ought not to just focus on that."

Watch as Hoyer calls the public option a priority »

Asked whether he would ultimately support a bill without such an option, Hoyer said, "I'm prepared to pass a health care reform bill that provides millions access to affordable, quality health care.
"We think the public option is an important component of that. But obviously you're going to have to have 218 votes in the House, and you're going to have to have at least a majority in the Senate to do that. We'll have to see how that legislative process goes."
E-mail to a friend

CNN's Dana Bash contributed to this report.
All About Barack Obama • Nancy Pelosi • Health Care Policy