By Jared Polis
Special to CNN






Editor's note: Rep. Jared Polis, a Democrat, represents Colorado's 2nd Congressional District and is appearing in CNN.com's "Freshman Year" series along with Rep. Jason Chaffetz, a Republican from Utah.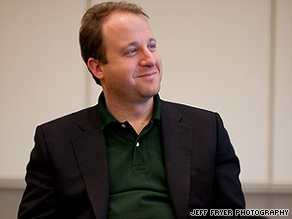 Rep. Jared Polis says he's optimistic the House will pass a bill to increase access and reduce cost of health care.
(CNN) -- After a month of heated debate on health care reform, it's time to play some hardball. As we settle back in to Washington, I am glad to see President Obama step up to bat and reissue and re-energize his call for reform.
I am optimistic that the U.S. House will pass a bill to reduce the cost and increase the access and availability of quality health care.
President Obama gave a great speech, making the case for health care reform from the heart and from the pocketbook. He called on Americans to recognize good ideas regardless of whether they originate on the left or the right and to pass a bill that will benefit us all. He "closed the deal" with many undecided Americans and undecided members of Congress on health care reform Wednesday night.
Barely a month after coming to Congress, while we watched President Obama sign the historic Recovery Act into law in Colorado, my good friend and colleague Diana DeGette said to me, "You know, it's not always like this." Her words have taken on new meaning, as the health care debate spilled over from July into an August, which felt more like campaign season than recess.
It started the first week of recess, when a large, sign-wielding crowd showed up outside a news conference that Speaker Pelosi, Rep. DeGette and I held at the Stout Street Clinic in Denver to highlight the success of health care investments made by Recovery Act.
At first I assumed the size of the crowd -- consisting of people both in support and opposition to proposed health insurance reforms -- was due to Speaker Pelosi's visit. But when she left, the crowds kept coming.
Since then, I have held nearly a dozen events across my district and have seen crowds of 200, 300, even 400 people turn out to take part in the health care debate. It is a true testament to the good nature of Coloradans that, unlike in many parts of the country, the crowds at my health care events, while large and loud, have been remarkably peaceful and truly engaged in the debate.
For the most part, questioners respectfully raised their hands and patiently waited in long lines, debating amongst themselves the pros and cons of reform initiatives.
It is also noteworthy that a good 60 percent to 80 percent of the crowds, depending on the location of the event, ardently supported Obama's plan for health care reform and a public option.
Don't Miss
One Saturday, 200 people arrived at 7 a.m. outside my Housing Fair in Thornton, Colorado, ready to talk health care. Although the purpose of the event was to help first-time homeowners and those facing foreclosure, hundreds of people braved 90-degree temperatures, chanting "single payer, public option" and "yes, we can!" and "no to socialism" while they came to hear my opinion on the debate.
I stayed until noon and was late to my next event so that I could speak to each and every one who came out.
What we are seeing is a historic outpouring of public emotion and civic involvement. Some have complained about the huge crowds and sudden popularity of congressional town halls, but I think it's great.
It's democracy in action. Under normal circumstances, I usually meet with a dozen or so constituents for a few minutes each at my Congress on Your Corner events, held at a local grocery store or coffee shop. The events themselves are designed specifically to reach out to the busy Americans -- moms buying groceries and dads picking kids up after school -- who don't have the time to attend a town hall but still are interested in chatting with their congressman for a few minutes.
To have hundreds of people from every political and demographic group you can imagine coming out day after day to take part in the nationa; health care debate is fantastic. I hope that we can maintain this level of public engagement in other issues that our nation faces and at the voting booth.
I heard people ask the same questions over and over again: How will this effect what I have now? Will I have more choices? Will I save money? As a member of Congress, my main job right now is to answer people's questions and try to stomp out many of the false, and at times ridiculous, rumors that are running around about health care reform.
Some questions, like "will the bill force me to pull the plug on grandma?" can be easily answered -- no.
Others, such as the effects of the proposed public option, public exchange and co-op, are much more difficult, and there are four versions of the bill in the House and Senate.
In my opinion, real reform, which lowers costs and ensures all Americans get the quality, affordable health care that they deserve, cannot be accomplished without a robust public option.
I support a robust public option because it serves three vital goals:
1. It keeps private insurance companies honest by increasing competition.
2. It serves as a universal backup, providing insurance coverage to uninsured individuals, employees working in small companies without access to affordable coverage and those who may lose coverage in the future.
3. It will bring down costs, and without it, we would need to raise taxes by an estimated $70 billion.
What this all boils down to is trust. Some people trust an insurance company over the government, while others trust the government over insurance companies. The great part about our plan and the public option is that it gives people the chance to choose whom they want to trust with their health care.
At one of my Congress on Your Corners in my hometown, Boulder, the loudest cheers of the night came when a woman asked "if the public-option plan is so good, why don't we put Congress on it?"
I support offering the public option to members of Congress and, as soon as I'm given the chance, I intend to go on it. But that doesn't mean we should force every member of Congress, especially those who oppose it, to take the public option.
The public option is the best of both worlds because it is an OPTION. Forced upon no one, the public option is simply a proposed addition to the several existing private insurance choices available to American health-care consumers that, when enacted, will help cut costs and provide coverage to millions of uninsured Americans.
With Congress back in Washington, several factions on both sides of the aisle threaten to stand in the way of reform if their needs are not met. In the end, however, what's most important is that we get the policy right. If it is good for our country, good for people, good for our economy, then we must pass it and that's the bottom line.
The opinions expressed in this commentary are solely those of Jared Polis.

E-mail to a friend

All About Health Care Policy • Health Care Costs • Nancy Pelosi