By Mike M. Ahlers
CNN





WASHINGTON -- President Obama said Thursday he intends to nominate a top Los Angeles International Airport police department official to head the Transportation Security Administration, the agency charged with protecting airplanes and other forms of transportation from terrorists.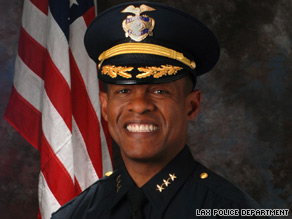 Erroll Southers has served as the state's deputy director of homeland security and a special agent with the FBI.
Erroll Southers currently is the department's chief of homeland security and intelligence. His name had been floated for the federal job earlier this year and was warmly received by unions and airport screeners, who say Southers will embrace collective bargaining for screeners.
Now "the question of bargaining rights at TSA is not a matter of 'if' but 'when,' " said John Gage, president of the American Federation of Government Employees, in a statement applauding the choice. "We are confident that the appointment of Mr. Southers as administrator will help put that matter to bed."
Screeners had an often hostile relationship with the Bush administration, which opposed unionization, saying it would hinder the agency's ability to quickly respond to emergencies.
The airport's police department, which Southers has helped manage since early 2007, is the largest such operation in the country, with approximately 1,200 employees.
His new job would give him much greater responsibilities, managing the TSA's roughly 50,000 employees. Those employees include some 45,000 screeners, known as transportation security officers, who provide security at 450 airports nationwide, and an undisclosed number of federal air marshals -- plainclothes officers tasked with preventing or interrupting hijackings.
"Sorry to see him go, actually," said Marshall McClain, president of the Los Angeles Airport Peace Officers Association. "Out of the new management team, I would say he was the most well-received and most well-liked."
McClain said Southers brought more weaponry to the department's tactical team, increased the focus on intelligence, and had the team train with security forces from Israel's El Al Airlines.
"Some of the things that the Israelis do may just shock the consciousness of the U.S., but they are second to none," McClain said. "He did step up the game quite a bit."
Obama's announcement sets in motion a confirmation process that will begin with the Senate Commerce Committee collecting background information on Southers. A confirmation hearing will come later, after Southers is formally nominated.
Homeland Security Secretary Janet Napolitano on Thursday praised Obama's choice, saying Southers' "expertise in counterterrorism and airport security will be a great asset to the department."
In addition to serving as assistant chief of the Los Angeles Airport Police, Southers is associate director at the Center for Risk and Economic Analysis of Terrorism Events at the University of Southern California. Previously, he served as the state's deputy director of homeland security, and as a police officer with the Santa Monica Police Department and special agent with the FBI.
The administration said Southers is a senior fellow at the University of California-Los Angeles School of Public Affairs and holds a bachelor's degree from Brown University as well as a master's degree from the University of Southern California, where he is currently pursuing a doctorate in policy, planning and development.
E-mail to a friend

All About Los Angeles International Airport • Transportation Security Administration • Janet Napolitano